711203 - Letter to ISKCON devotees of Los Angeles written from Delhi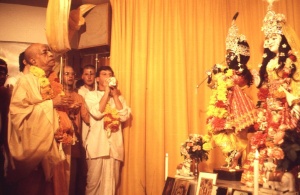 December 03, 1971

My Dear Karandhara dasa, Don, Prsni dasi, Jayatirtha dasa, Laksmana, Carol, Madhukanta dasa, Mark, Jo Ann, Sukadeva dasa, Doug, Kasondria, Dhruvananda dasa, Karnapura dasa, Liz, Riktananda dasa, Gopala Bhatta dasa, Patricia, Sridhara dasa, Govinda dasa, Saci devi, Srivas dasa, Alladin, Saraladevi, Ramesvara dasa, Gaea, Ananga devi, Siddhesvara dasa, Will, Vikramini devi, Yasodajiva dasa, Tim, Caitanya dasi, Upadaya dasa, Bod, Draupadi dasi, Kunjabehari dasa, David, Gandhari dasi, Dayanidhi dasa, Joel, Herapancami dasi, Karunasindhu dasa, Larry, Saha devi, Babhubahan dasa, Jitendria dasa, Daksina devi, Kanupriya dasa & wife, Laurie, Krsnakanti dasa, Mahapurusa dasa, Marilyn, Stokakrishna dasa, Haridasa, Tosana dasa, Tulsi devi, Tradis dasa, Jayasri dasi, Bruce, Prasuti dasi,
Please accept my blessings. I am in due receipt of your kind letter on November 12, 1971, and I have appreciated the contents with great pleasure. Radha and Krishna have been so much merciful upon me to have given me so many nice spiritual sons and daughters as yourselves. I can see by the photos of your Los Angeles Temple that you are all very good servants of Radha and Krishna, and that They are very much pleased by your service. Thank you very much for assisting me in this way.
Now my one request to you all is that you become fully happy by conducting your lives in Krishna Consciousness, and you can know it for sure that in this way you will come with me back to Home, back to Godhead.
I hope this meets you all in good health and cheerful mood,
Your ever well-wisher,
A.C. Bhaktivedanta Swami