711124 - Letter to Locana written from Delhi
From Vanisource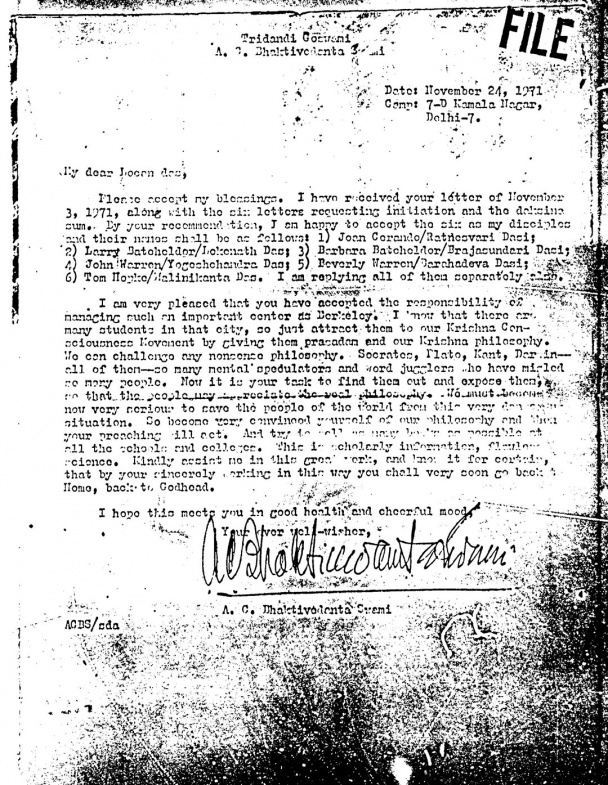 Tridandi Goswami
A.C. Bhaktivedanta Swami

Date: November 24, 1971
Camp: 7-D Kamala Nagar
          Delhi-7


My Dear Locan das,
Please accept my blessings. I have received your letter of November 3, 1971, along with the six letters requesting initiation and the daksine sum. By your recommendation, I am happy to accept the six as my disciples and their names shall be as follows: 1) Joan Corando/Ratnesvari Dasi; 2) Larry Batcholdor/Lokenath Das; 3) Barbara Batcholdor/Brajasundari Dasi; 4) John Warren/Yogeshchandra Das; 5) Beverly Warren/Darahadeva Dasi; 6) Tom Hopke/Halinikanta Das. I am replying all of them separately also.
I am very pleased that you have accepted the responsibility of managing such an important center as Berkeley. I know that there are many students in that city, so just attract them to our Krishna Consciousness Movement by giving them prasadam and our Krishna philosophy. We can challenge any nonsense philosophy. Socrates, Plato, Kant, Darwin--all of them--so many mental speculators and word jugglers who have misled so many people. Now it is your task to find them out and expose them, so that the people may appreciate the real philosophy. We must become now very serious to save the people of the world from this very dangerous situation. So become very convinced yourself of our philosophy and then your preaching will act. And try to sell as many books as possible at all the schools and colleges. This is scholarly information, flawless science. Kindly assist me in this great work, and know it for certain, that by your sincerely working in this way you shall very soon go back to Home, back to Godhead.
I hope this meets you in good health and cheerful mood,
Your ever well-wisher,


A.C. Bhaktivedanta Swami

ACBS/sda