711117 - Letter to Sridama written from Delhi
From Vanisource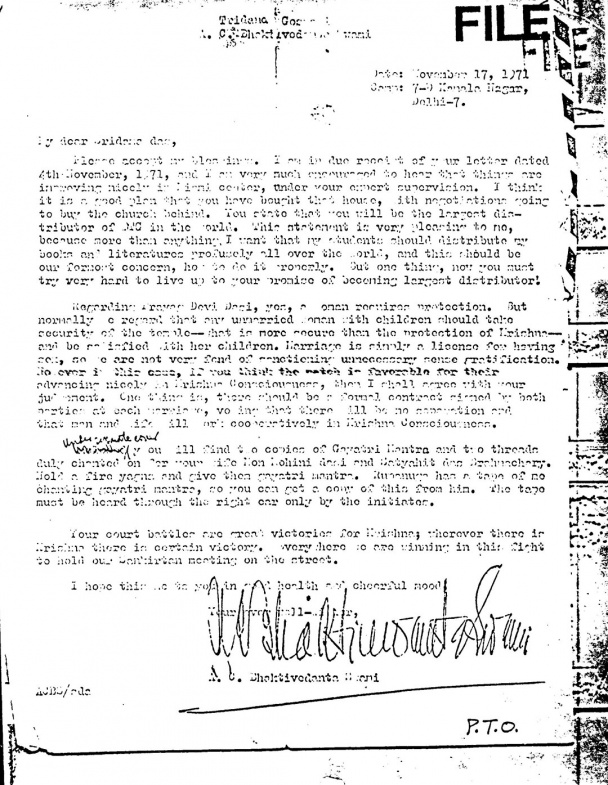 Tridandi Goswami
A.C. Bhaktivedanta Swami

Date:November 17, 1971
Camp:7-D Kamala Nagar,
          Delhi-7.


My Dear Sridama das,
Please accept my blessings. I am in due receipt of your letter dated 4th November, 1971, and I am very much encouraged to hear that things are improving nicely in Miami center, under your expert supervision. I think it is a good plan that you have bought that house, with negotiations going to buy the church behind. You state that you will be the largest distributer of BTG in the world. This statement is very pleasing to me, because more than anything I want that my students should distribute my books and literatures profusely all over the world, and this should be our formost concern, how to do it properly. But one thing, now you must try very hard to live up to your promise of becoming largest distributor!
Regarding Prayag Devi Dasi, yes, a woman requires protection. But normally we regard that any unmarried woman with children should take security of the temple—that is more secure than the protection of Krishna—and be satisfied with her children. Marriage is simply a license for having sex, so we are not very fond of sanctioning unnecessary sense gratification. However in this case, if you think the match is favorable for their advancing nicely in Krishna Consciousness, then I shall agree with your judgement. One thing is, there should be a formal contract signed by both parties at each marriage, voting that there will be no separation and that man and wife will work cooperatively in Krishna Consciousness.
Unless [unclear] [handwritten] you will find two copies of Gayatri mantra and two threads duly chanted on for your wife Manmohini dasi and Satyahit das Brahmachary. Hold a fire yagna and give them Gayatri mantra. Rupanuga has a tape of me chanting Gayatri mantra, so you can get a copy of this from him. The tape must be heard through the right ear only by the initiates.

Your court battles are great victories for Krishna; whenever there is Krishna there is certain victory. Everywhere we are winning in this fight to hold our Sankirtan meeting on the street.
I hope this meets you in good health and cheerful mood.
Your ever well-wisher,



A.C. Bhaktivedanta Swami

ACBS/sda