711016 - Letter to Ksirodakasayi written from Nairobi
From Vanisource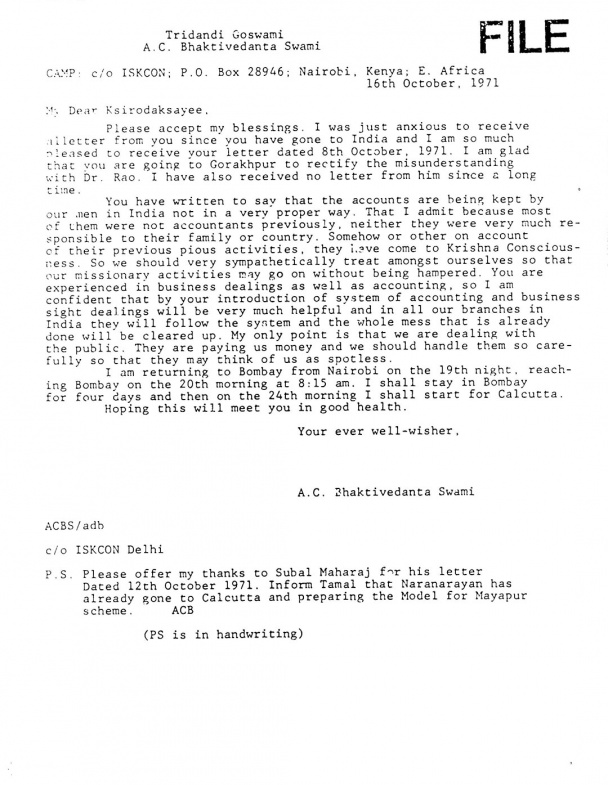 Tridandi Goswami
A.C. Bhaktivedanta Swami
CAMP: c/o ISKCON; P.O. Box 28946; Nairobi, Kenya; E. Africa
16th October, 1971

My Dear Ksirodaksayee,
Please accept my blessings. I was just anxious to receive a letter from you since you have gone to India and I am so much pleased to receive your letter dated 8th October, 1971. I am glad that you are going to Gorakhpur to rectify the misunderstanding with Dr. Rao. I have also received no letter from him since a long time.
You have written to say that the accounts are being kept by our men in India not in a very proper way. That I admit because most of them were not accountants previously, neither they were very much responsible to their family or country. Somehow or other on account of their previous pious activities, they have come to Krishna Consciousness. So we should very sympathetically treat amongst ourselves so that our missionary activities may go on without being hampered. You are experienced in business dealings as well as accounting, so I am confident that by your introduction of system of accounting and business sight dealings will be very much helpful and in all our branches in India they will follow the system and the whole mess that is already done will be cleared up. My only point is that we are dealing with the public. They are paying us money and we should handle them so carefully so that they may think of us as spotless.
I am returning to Bombay from Nairobi on the 19th night, reaching Bombay on the 20th morning at 8:15 am. I shall stay in Bombay for four days and then on the 24th morning I shall start for Calcutta.
Hoping this will meet you in good health.
Your ever well-wisher,


A.C. Bhaktivedanta Swami

ACBS/adb
c/o ISKCON Delhi
P.S. Please offer my thanks to Subal Maharaj for his letter dated 12th October 1971. Inform Tamal that Naranarayan has already gone to Calcutta and preparing the Model for Mayapur scheme.       ACB
(PS is in handwriting)