710909 - Letter to Dr. Bali written from London
From Vanisource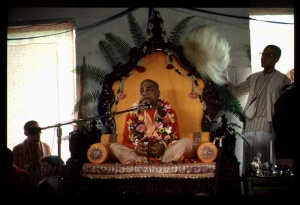 September 09, 1971

My Dear Dr. Bali,
Please accept my blessings. I beg to thank you very much for your letter dated 3rd September, 1971 and my blessings are there for you and your good wife. One S. Indian gentleman, Mr. Cheety, came to see my in L.A. when I was there and he has invited me to go to his place. I had promised him that I am going there during my Madras tour in October. Formerly also when I talked with Vaijyantimala, she also said that October would be first class climate for going there. But now the program is changed, so I have no idea about the programs in India.
There are several programs in Calcutta, Mayapur, Delhi and Bombay also in December so far I know. I am going to East Africa, Kenya, on Friday evening, 10th instant. My address there is given above.
I have handed over your letter to Syamasundara for negotiating with the different presidents of the Indian centers. So you may fix up the Madras program by consulting the local presidents in the different places and Madhudvisa Maharaja may help you in this connection. Similarly I have advised Syamasundara to correspond with them whether our program in Madras in the month of December will not collide with other programs. I have no objection to your proposal about changing the time from October to December but it has to be fixed up in consultation with the others.
Regarding the house, Syamasundara is returning by the first week of October and he has got better experience in such things, so estimate the repair cost, etc. As there is sufficient time, so when he returns to India he will go and see the things personally.
Hoping this will meet you in good health.
Your ever well-wisher,
A.C. Bhaktivedanta Swami