710827 - Letter to Gurudasa written from London
From Vanisource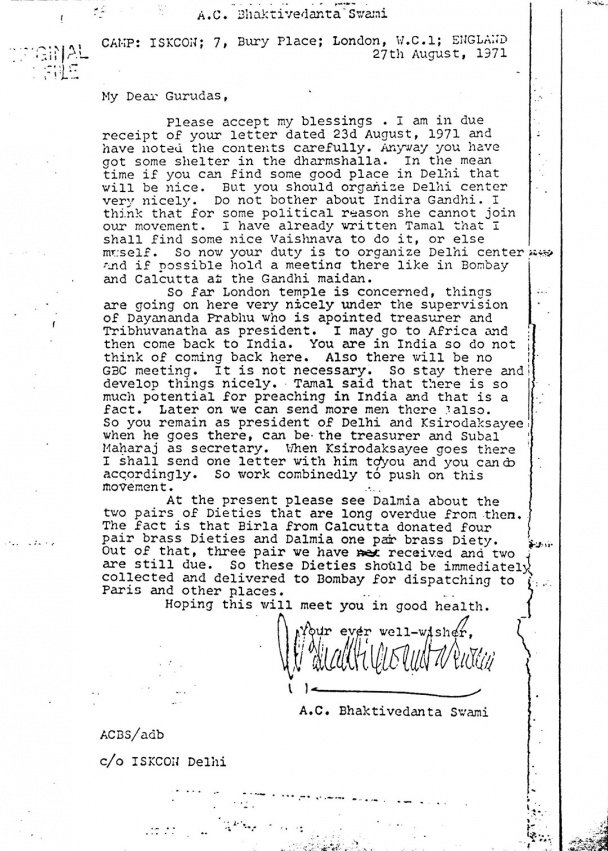 Tridandi Goswami
A.C. Bhaktivedanta Swami
CAMP: ISKCON; 7, Bury Place, London, W.C. 1; ENGLAND
27th August, 1971


My Dear Gurudas,
Please accept my blessings. I am in due receipt of your letter dated 23d August, 1971 and have noted the contents carefully. Anyway you have got some shelter in the dharmashalla. In the meantime if you can find some good place in Delhi that will be nice. But you should organize Delhi center very nicely. Do not bother about Indira Gandhi. I think that for some political reason she cannot join our movement. I have already written Tamal that I shall find some nice Vaishnava to do it, or else myself. So now your duty is to organize Delhi center and if possible hold a meeting there like in Bombay and Calcutta at the Gandhi maidan.
So far London temple is concerned, things are going on here very nicely under the supervision of Dayananda Prabhu who is appointed treasurer and Tribhuvanatha as president. I may go to Africa and then come back to India. You are in India so do not think of coming back here. Also there will be no GBC meeting. It is not necessary. So stay there and develop things nicely. Tamal said that there is so much potential for preaching in India and that is a fact. Later on we can send more men there also. So you remain as president of Delhi and Ksirodaksayee when he goes there, can be the treasurer and Subal Maharaj as secretary. When Ksirodaksayee goes there I shall send one letter with him to you and you can do accordingly. So work combinedly to push on this movement.
At the present please see Dalmia about the two pairs of Deities that are long overdue from them. The fact is that Birla from Calcutta donated four pair brass Deities and Dalmia one pair brass Deity. Out of that, three pair we have received and two are still due. So these Deities should be immediately collected and delivered to Bombay for dispatching to Paris and other places.
Hoping this will meet you in good health.
Your ever well-wisher,


A.C. Bhaktivedanta Swami

ACBS/adb
c/o ISKCON Delhi