710826 - Letter to Karandhara written from London
From Vanisource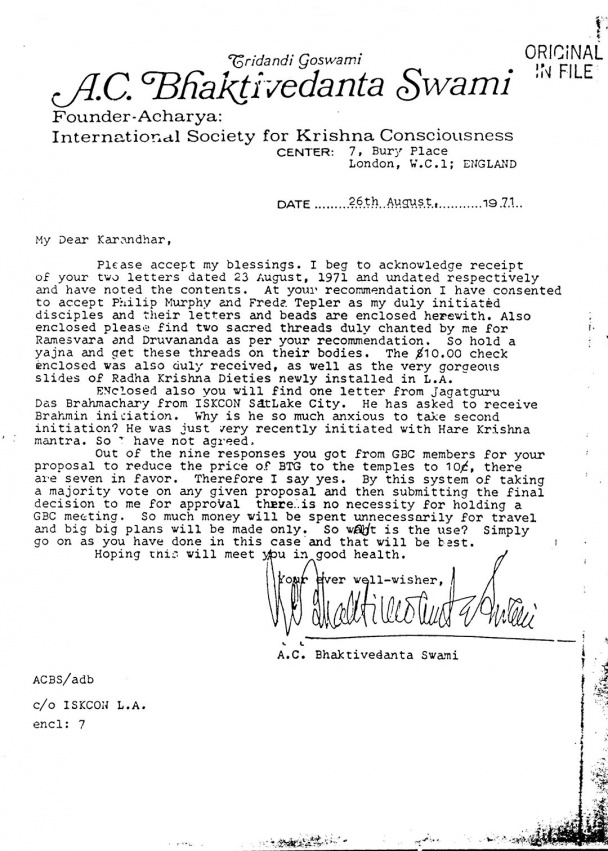 Tridandi Goswami
A.C. Bhaktivedanta Swami
Founder-Acharya:
International Society for Krishna Consciousness
CENTER:   7, Bury Place
                London, W.C. 1; ENGLAND

DATE .......26th..August,.........19.71..


My Dear Karandhar,
Please accept my blessings. I beg to acknowledge receipt of your two letters dated 23 August, 1971 and undated respectively and have noted the contents. At your recommendation I have consented to accept Philip Murphy and FredzTepler as my duly initiated disciples and their letters and beads are enclosed herewith. Also enclosed please find two sacred threads duly chanted by me for Ramesvara and Dhruvananda as per your recommendation. So hold a yajna and get these threads on their bodies. The $10.00 check enclosed was also duly received, as well as the very gorgeous slides of Radha Krishna Deities newly installed in L.A.
Enclosed also you will find one letter from Jagatguru Das Brahmachary from ISKCON Salt Lake City. He has asked to receive Brahmin initiation. Why is he so much anxious to take second initiation? He was just very recently initiated with Hare Krishna mantra. So I have not agreed.
Out of the nine responses you got from GBC members for your proposal to reduce the price of BTG to the temples to 10¢, there are seven in favor. Therefore I say yes. By this system of taking a majority vote on any given proposal and then submitting the final decision to me for approval there is no necessity for holding a GBC meeting. So much money will be spent unnecessarily for travel and big big plans will be made only. So what is the use? Simply go on as you have done in this case and that will be best.
Hoping this will meet you in good health.
Your ever well-wisher,



A.C. Bhaktivedanta Swami

ACBS/adb
c/o ISKCON L.A.
encl: 7