710813 - Letter to Sri Suresh Chandra written from London
From Vanisource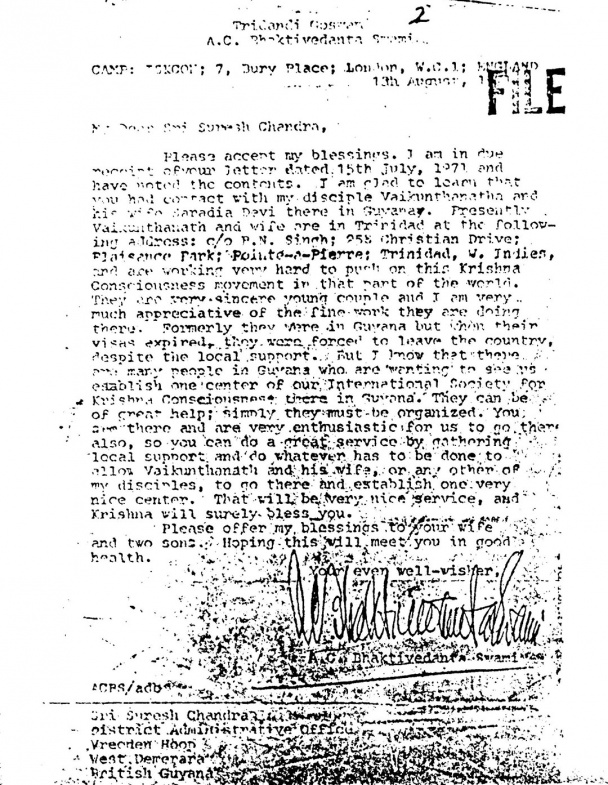 Tridandi Goswami
A.C. Bhaktivedanta Swami
CAMP: ISKCON; 7, Bury Place; London, W.C. 1; ENGLAND
13th August, 1971

My Dear Sri Suresh Chandra,
Please accept my blessings. I am in due receipt of your letter dated 15th July, 1971 and have noted the contents. I am glad to learn that you had contact with my disciple Vaikunthanatha and his wife Saradia Devi there in Guyana. Presently Vaikunthanath and wife are in Trinidad at the following address: c/o B.N. Singh; 258 Christian Drive; Plaisance Park; Pointe-a-Pierre; Trinidad, W. Indies, and are working very hard to push on this Krishna Consciousness movement in that part of the world. They are very sincere young couple and I am very much appreciative of the fine work they are doing there. Formerly they were in Guyana but when their visas expired, they were forced to leave the country, despite the local support. But I know that there are many people in Guyana who are wanting to see us establish one center of our International Society for Krishna Consciousness there in Guyana. They can be of great help; simply they must be organized. You are there and are very enthusiastic for us to go there also, so you can do a great service by gathering local support and do whatever has to be done to allow Vaikunthanath and his wife, or any other of my disciples, to go there and establish one very nice center. That will be very nice service, and Krishna will surely bless you.
Please offer my blessings to your wife and two sons. Hoping this will meet you in good health.
Your ever well-wisher,



A.C. Bhaktivedanta Swami

ACBS/adb
Sri Suresh Chandra
District Administrative Office
Vreoden Hoop
West Demerara
British Guyana