710725 - Letter to Nayanabhirama written from New York
From Vanisource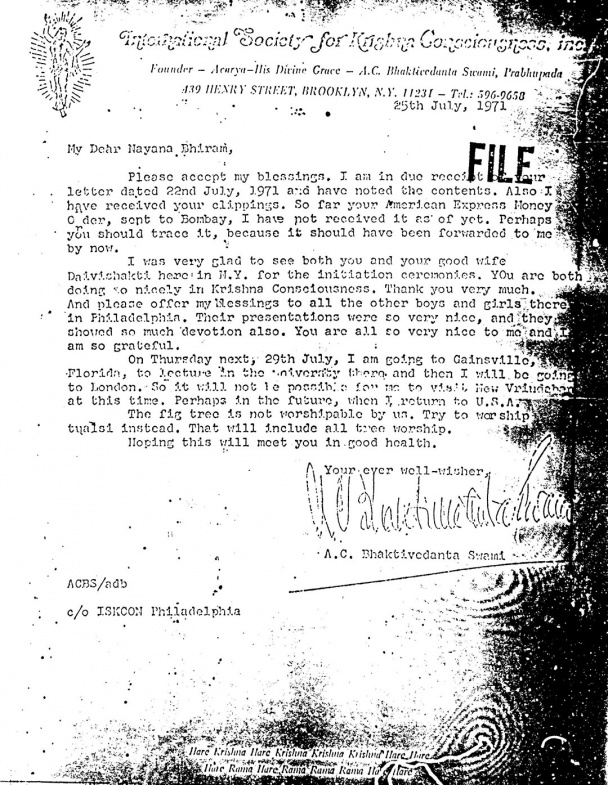 International Society for Krishna Consciousness, Inc.
Founder - Acharya-His Divine Grace - A.C. Bhaktivedanta Swami Prabhupada
439 HENRY STREET, BROOKLYN. N.Y. 11231 - Tel.: 596-9658
25th July, 1971


My Dear Nayana Bhiram,
Please accept my blessings. I am in due receipt of your letter dated 22nd July, 1971 and have noted the contents. Also I have received your clippings. So far your American Express Money Order, sent to Bombay, I have not received it as of yet. Perhaps you should trace it, because it should have been forwarded to me by now.
I was very glad to see both you and your good wife Daivishakti here in N.Y. for the initiation ceremonies. You are both doing so nicely in Krishna Consciousness. Thank you very much. And please offer my blessings to all the other boys and girls there in Philadelphia. Their presentations were so very nice, and they showed so much devotion also. You are all so very nice to me and I am so grateful.
On Thursday next, 29th July, I am going to Gainesville, Florida, to lecture in the university there and then I will be going to London. So it will not be possible for me to visit New Vrindaban at this time. Perhaps in the future, when I return to U.S.A.
The fig tree is not worshipable by us. Try to worship tulasi instead. That will include all tree worship.
Hoping this will meet you in good health.
Your ever well-wisher,



A.C. Bhaktivedanta Swami

ACBS/adb
c/o ISKCON Philadelphia



Hare Krishna Hare Krishna Krishna Krishna Hare Hare
Hare Rama Hare Rama Rama Rama Hare Hare