710617 - Letter to Tamala Krishna written from Bombay
From Vanisource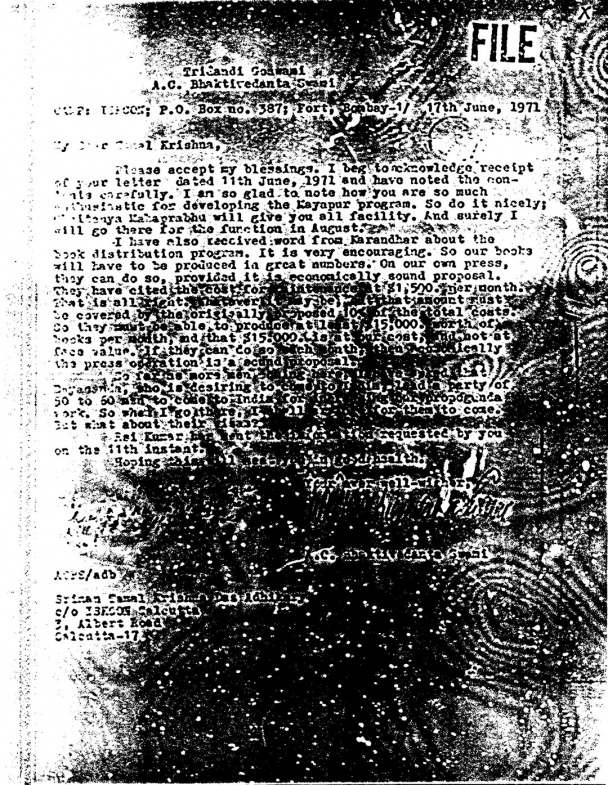 Tridandi Goswami
A.C. Bhaktivedanta Swami
CAMP: ISKCON; P.O.Box 387; Fort, Bombay-1/     17th June, 1971

My Dear Tamal Krishna,
Please accept my blessings. I beg to acknowledge receipt of your letter dated 11th June, 1971 and have noted the contents carefully. I am so glad to note how you are so much enthusiastic for developing the Mayapur program. So do it nicely; Chaitanya Mahaprabhu will give you all facility. And surely I will go there for the function in August.
I have also received word from Karandhar about the book distribution program. It is very encouraging. So our books will have to be produced in great numbers. On our own press, they can do so, provided it is economically sound proposal. They have cited the cost for maintenance at $1,500 per month. That is all right. Whatever it may be, but that amount must be covered by the originally proposed 10% of the total costs. So they must be able to produce at least $15,000 worth of books per month, and that $15,000 is at our cost, and not at face value. If they can do so each month, then economically the press operation is a sound proposal.
So far as more men coming here, I have asked that Dayananda, who is desiring to come to India, lead a party of 50 to 60 men to come to India for increasing our propaganda work. So when I go there, I shall arrange for them to come. But what about their visas?
Rsi Kumar has sent the information requested by you on the 11th instant.
Hoping this will meet you in good health.
Your ever well-wisher,


A.C. Bhaktivedanta Swami

ACBS/adb
Sriman Tamal Krsna Das Adhikary
c/o ISKCON Calcutta
3, Albert Road
Calcutta-17