Radharani

Krishna

Caitanya

God

God's Holy Names

Krishna Consciousness Movement

Who Is Srila Prabhupada

his Timeline

Months in his Life

Training his Disciples

Questions

Bhagavad-gita

Devotees of God

Devotional Service to God

Discipleship

Guru / Acharya

Essential Subjects

Nectar Drops

What's in Vanipedia now

Glorious Personalities

Yoga

Collaborate with us to invoke and fully manifest Srila Prabhupada's Vani-presence.
---
710611 - Letter to Kanupriya written from Bombay
From Vanisource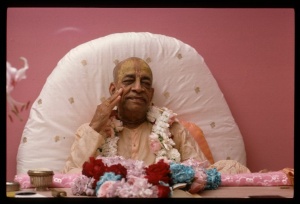 June 11, 1971

My Dear Kanupriya,
Please accept my blessings. I thank you very much for your letter dated 26 Madhusudana, 485 Caitanya Era and I have noted the contents carefully. It is so much encouraging to hear how nicely things are going on there in Trinidad and Guyana also. And the people are appreciating the purity of our teachings. Gradually they will appreciate such teachings more and more, simply if we stick to our principles. Still there is much demigod puja, but you should quote from Bhagavad-gita that Krishna, the Supreme Personality of Godhead, says that less intelligent men worship the demigods and the result of such worship is not permanent. Krishna Consciousness is permanent, and the living entities are also permanent. So instead of wasting their time worshiping the demigods, everyone should take to Krishna Consciousness.
Your plan for not remaining in one place, but rotating every two weeks for engagements is very good idea, so do it nicely. And Krishna is giving you so much facility. So you can immediately open a very nice center there in Trinidad in that newly donated building and I may go there personally with Deities for installation also. So if they are donating the house and land, I am prepared to go there to accept the donation. Petambar Dindayal and Dr. Balwant Singh have both invited me to go there, so if you have been donated house and land, then I can go there without hesitation.
Yes, you should get ISKCON registered as an official religious organization. Do it seriously. Then we will be eligible for government assistance. That is very nice. So you organize it and make a very first class center there and very soon I will come and install Deity.
You will be glad to know that I have consented to accept your good wife as my duly initiated disciple and have given her the name Caitanya Devi Dasi. Her beads and letter are enclosed herewith. So now both of you, husband and wife, work cooperatively and make ISKCON Trinidad a grand success.
Please offer my blessings to Vaikunthanatha and Saradia and ask them to write me and let me know of their activities in Guyana. Hoping this will meet you in good health.
Your ever well-wisher,
A.C. Bhaktivedanta Swami