710611 - Letter to Gurudasa written from Bombay
From Vanisource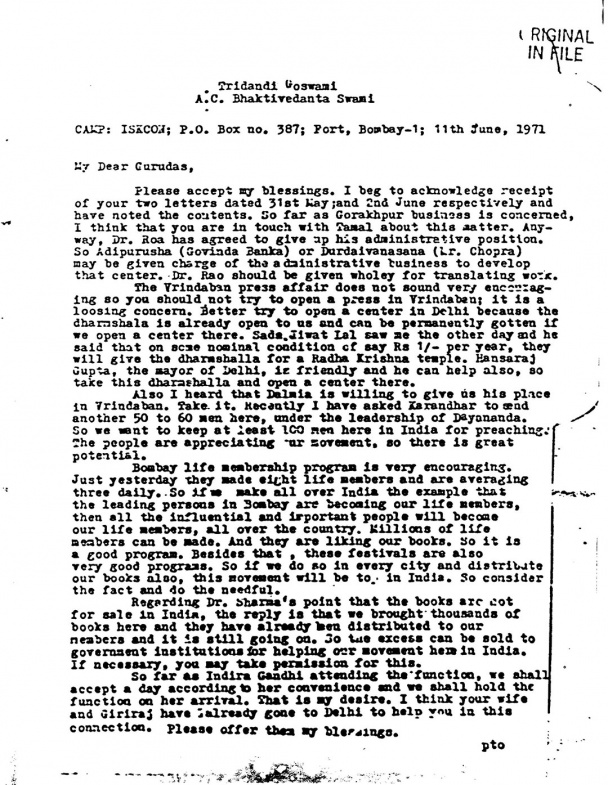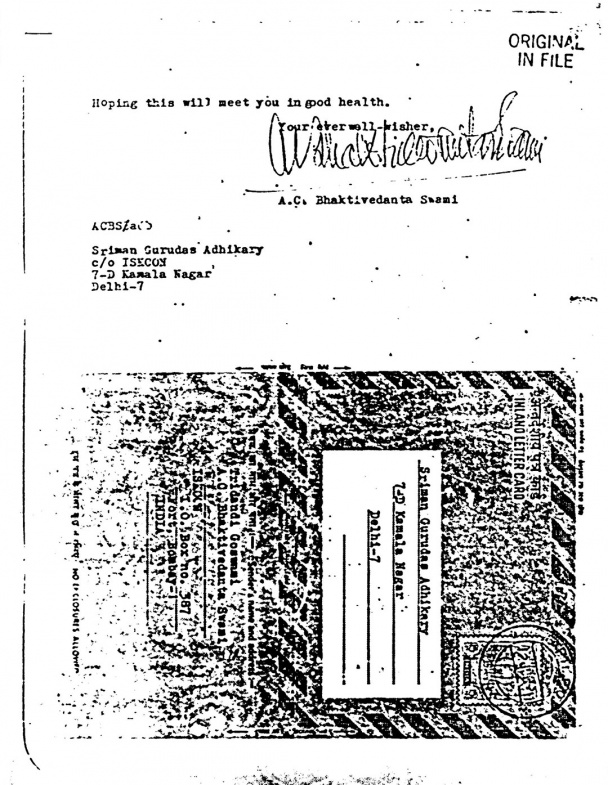 Tridandi Goswami
A.C. Bhaktivedanta Swami
CAMP: ISKCON; P.O. Box no. 387; Fort, Bombay-1; 11th June, 1971

My Dear Gurudas,
Please accept my blessings. I beg to acknowledge receipt of your two letters dated 31st May; and 2nd June respectively and have noted the contents. So far as Gorakhpur business is concerned, I think that you are in touch with Tamal about this matter. Anyway, Dr. Rao has agreed to give up his administrative position. So Adipurusha (Govinda Banka) or Durdaivanasana (Mr. Chopra) may be given charge of the administrative business to develop that center. Dr. Rao should be given wholly for translating work.
The Vrindaban press affair does not sound very encouraging so you should not try to open press in Vrindaban; it is a losing concern. Better try to open a center in Delhi because the dharmashala is already open to us and can be permanently gotten if we open a center there. Sada Jiwat Lal saw me the other day and he said that on some nominal condition of say Rs 1/- per year, they will give the dharmashalla for a Radha Krishna temple. Hansaraj Gupta, the mayor of Delhi, is friendly and he can help also, so take this dharmashalla and open a center there.
Also I heard that Dalmia is willing to give us his place in Vrindaban. Take it. Recently I have asked Karandhar to send another 50 to 60 men here, under the leadership of Dayananda. So we want to keep at least 100 men here in India for preaching. The people are appreciating our movement, so there is great potential.
Bombay life membership program is very encouraging. Just yesterday they made eight life members and are averaging three daily. So if we make all over India the example that the leading persons in Bombay are becoming our life members, then all the influential and important people will become our life members, all over the country. Millions of life members can be made. And they are liking our books. So it is a good program. Besides that, these festivals are also very good programs. So if we do so in every city and distribute our books also, this movement will be top in India. So consider the fact and do the needful.
Regarding Dr. Sharma's point that the books are not for sale in India, the reply is that we brought thousands of books here and they have already been distributed to our members and it is still going on. So the excess can be sold to government institutions for helping our movement here in India. If necessary, you may take permission for this.
So far as Indira Gandhi attending the function, we shall accept a day according to her convenience and we shall hold the function on her arrival. That is my desire. I think your wife and Giriraj have already gone to Delhi to help you in this connection. Please offer them my blessings.

Hoping this will meet you in good health.
Your ever well-wisher,


A.C. Bhaktivedanta Swami

ACBS/adb
Sriman Gurudas Adhikary
c/o ISKCON
7-D Kamala Nagar
Delhi-7