710526 - Letter to Satsvarupa written from Calcutta
From Vanisource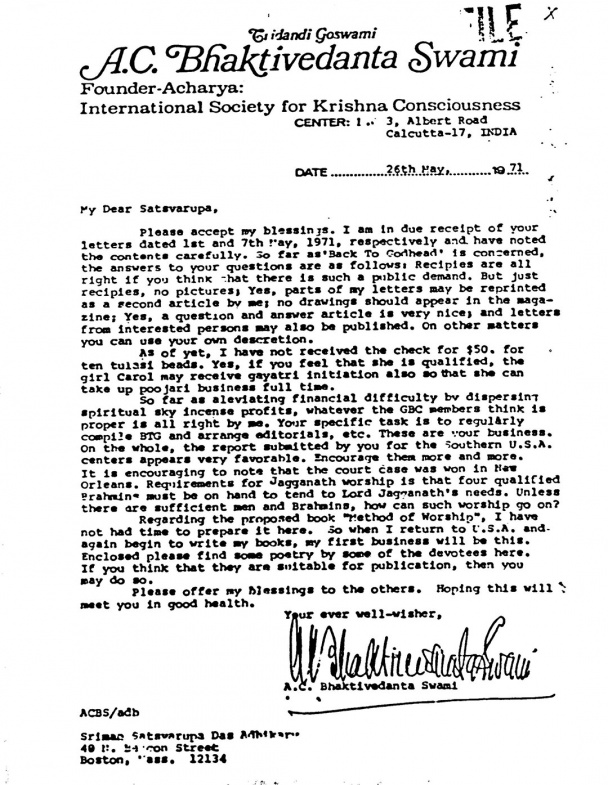 Tridandi Goswami
A.C. Bhaktivedanta Swami
Founder-Acharya:
International Society for Krishna Consciousness
CENTER: 1 .    3, Albert Road;
                      Calcutta-17, INDIA

DATE ..........26th..May,.........19.71..

My Dear Satsvarupa,
Please accept my blessings. I am in due receipt of your letters dated 1st and 7th May, 1971, respectively and have noted the contents carefully. So far as "Back To Godhead" is concerned, the answers to your questions are as follows: Recipies are all right if you think that there is such a public demand. But just recipes, no pictures; Yes, parts of my letters may be reprinted as a second article by me; no drawings should appear in the magazine; Yes, a question and answer article is very nice, and letters from interested persons may also be published. On other matters you can use your own discretion.
As of yet, I have not received the check for $50 for ten tulasi beads. Yes, if you feel that she is qualified, the girl Carol may receive Gayatri initiation also so that she can take up poojari business full time.
So far as alleviating financial difficulty by dispersing spiritual sky incense profits, whatever the GBC members think is proper is all right by me. Your specific task is to regularly compile BTG and arrange editorials, etc. These are your business. On the whole, the report submitted by you for the Southern U.S.A. centers appears very favorable. Encourage them more and more. It is encouraging to note that the court case was won in New Orleans. Requirements for Jagganath worship is that four qualified Brahmins must be on hand to tend to Lord Jagganath's needs. Unless there are sufficient men and Brahmins, how can such worship go on?
Regarding the proposed book "Method of Worship", I have not had time to prepare it here. So when I return to U.S.A. and again begin to write my books, my first business will be this. Enclosed please find some poetry by some of the devotees here. If you think that they are suitable for publication, then you may do so.
Please offer my blessings to the others. Hoping this will meet you in good health.
Your ever well-wisher,



A.C. Bhaktivedanta Swami

ACBS/adb
Sriman Satsvarupa Das Adhikary
38-40 No. Baecon Street
Boston, Mass.  12134