710429 - Letter to Bhagavan written from Bombay
From Vanisource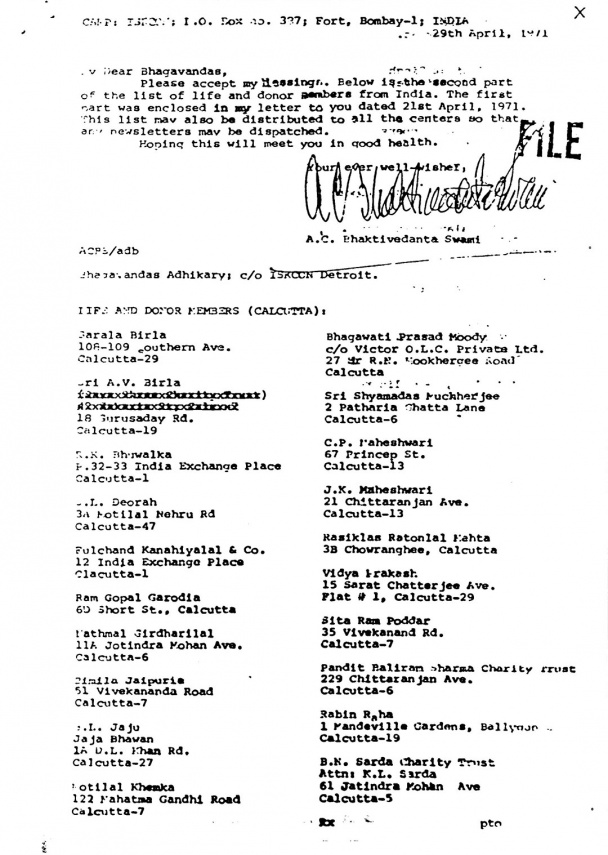 CAMP: ISKCON; P.O.Box No. 387; Fort, Bombay-1; INDIA
29th April 1971

My Dear Bhagavandas,
Please accept my blessings. Below is the second part of the list of life and donor members from India. The first part was enclosed in my letter to you dated 21st April, 1971. This list may also be distributed to all the centers so that any newsletters may be dispatched.
Hoping this will meet you in good health.
Your ever well-wisher,


 
A.C. Bhaktivedanta Swami
ACBS/adb
Bhagavandas Adhikary: c/o ISKCON Detroit.

IIFS AND DONOR MEMBERS (CALCUTTA):
Garala Birla
108-109 Southern Ave.
Calcutta-19
Sri A.V. Birla
18 Gurusaday Rd.
Calcutta-49
R.K.Bhawalka
P.32-33 India Exchange Place
Calcutta-1
G.L.Deorah
3A Motilal Nehru Rd
Calcutta-47
Fulchand Kanahiyalal & Co.
12 India Exchange Place
Calcutta-1
Ram Gopal Garodia
6D Short St.,Calcutta
Fathmal Girdharilal
11A Jotindra Mohan Ave.
Calcutta-6
Bimilia Jaipuria
52 Vivekananda Road
Calcutta-6
K.L.Jaju
Jaja Bhawan
1A D.L.Khan Rd.
Calcutta-27
Motilal Khemka
122 Mahatma Gandhi Road
Calcutta-7
Bhagawati Prasad Moody
c/o Victor O.L.C. Private Ltd.
27 Dr. R.N. Mookhergee Road
Calcutta
Sri Shyamadas Muckherjee
2 Patharia Ghatta Lane
Calcutta-6
C.P.Maheswari
67 Princep St.
Calcutta-13
J.K.Maheswari
21 Chittaranjan Ave.
Calcutta-13
Rasiklas Ratonlal Mehta
3B Chowranghee, Calcutta
Vidya Prakash
15 Sarat Chatterjee Ave.
Flat #1, Calcutta-29
Sita Ram Poddar
35 Vivekanand Rd.
Calcutta-7
Pandit Baliram Sharma Charity Trust
229 Chittaranjan Ave.
Calcutta-6
Rabin Raha
1 Mandeville Gardens, Ballygunje
Calcutta-19
B.N. Sarda Charity Trust
Attn: K.L.Sarda
61 Jatindra Mohan  Ave
Calcutta-5