710421 - Letter to Ksirodakasayi written from Bombay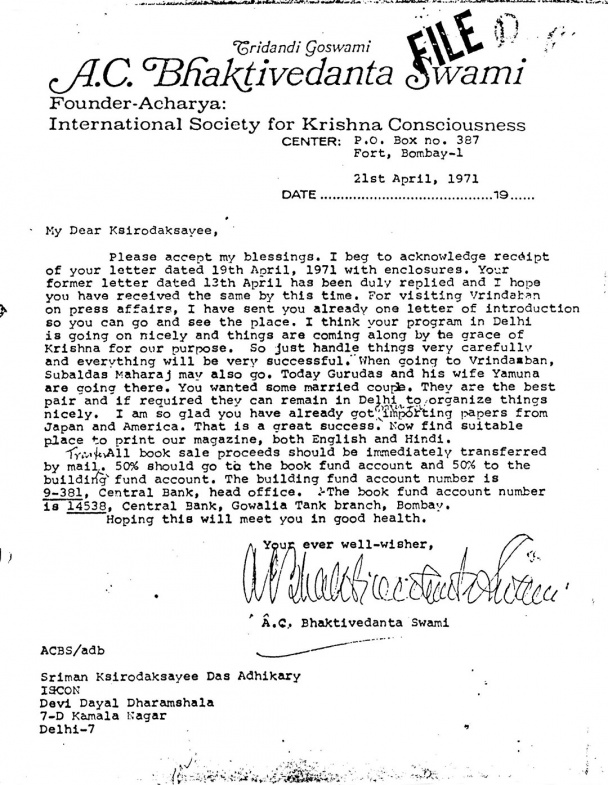 Tridandi Goswami
A.C. Bhaktivedanta Swami
Founder-Acharya:
International Society for Krishna Consciousness
CENTER:  P.O. Box no. 387
               Fort, Bombay-1
               21st April, 1971
DATE .................................19..........

My Dear Ksirodaksayee,
Please accept my blessings. I beg to acknowledge receipt of your letter dated 19th April, 1971 with enclosures. Your former letter dated 13th April has been duly replied and I hope you have received the same by this time. For visiting Vrindaban on press affairs, I have sent you already one letter of introduction so you can go and see the place. I think your program in Delhi is going on nicely and things are coming along by the grace of Krishna for our purpose. So just handle thing very carefully and everything will be very successful. When going to Vrindaban, Subaldas Maharaj may also go. Today Gurudas and his wife Yamuna are going there. You wanted some married couple. They are the best pair and if required they can remain in Delhi to organize things nicely. I am so glad you have already got order for [handwritten] importing papers from Japan and America. That is a great success. Now find suitable place to print our magazine, both English and Hindi.
All book sale proceeds should be immediately transferred by mail Transfer [handwritten]. 50% should go to the book fund account and 50% to the building fund account. The building fund account number is 9-381, Central Bank, head office. The book fund account number is 14538, Central Bank, Gowalia Tank branch, Bombay.
Hoping this will meet you in good health.
Your ever well-wisher,



A.C. Bhaktivedanta Swami

ACBS/adb
Sriman Ksirodaksayee Das Adhikary
ISKCON
Devi Dayal Dharamshala
7-D Kamala Nagar
Delhi-7