710409 - Letter to Karandhara written from Bombay
From Vanisource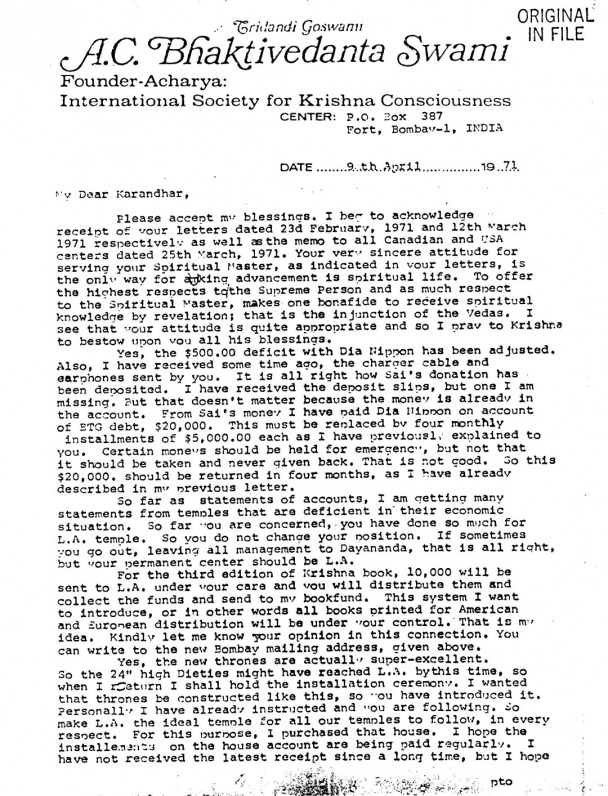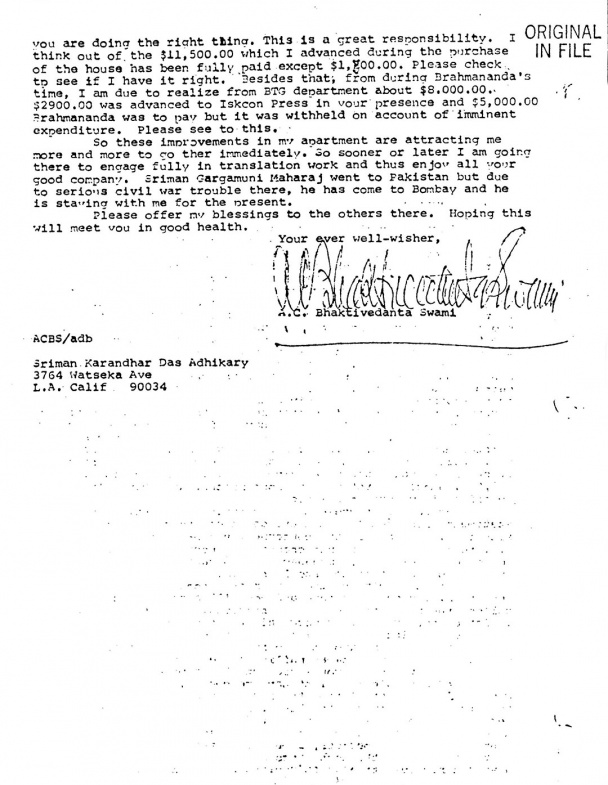 Tridandi Goswami
A.C. Bhaktivedanta Swami
Founder-Acharya:
International Society for Krishna Consciousness
CENTER: P.O. Box 387
              Fort, Bombay-1, INDIA


DATE .......9.th.April...............19..71.

My Dear Karandhar,
Please accept my blessings. I beg to acknowledge receipt of your letters dated 23rd February, 1971 and 12th March 1971 respectively as well as the memo to all Canadian and USA centers dated 25th March, 1971. Your very sincere attitude for serving your Spiritual Master, as indicated in your letters, is the only way for making advancement is spiritual life. To offer the highest respects to the Supreme Person and as much respect to the Spiritual Master, makes one bonafide to receive spiritual knowledge by revelation; that is the injunction of the Vedas. I see that your attitude is quite appropriate and so I pray to Krishna to bestow upon you all his blessings.
Yes, the $500.00 deficit with Dai Nippon has been adjusted. Also, I have received some time ago, the charger cable and earphones sent by you. It is all right how Sai's donation has been deposited. I have received the deposit slips, but one I am missing. But that doesn't matter because the money is already in the account. From Sai's money I have paid Dai Nippon on account of BTG debt, $20,000. This must be replaced by four monthly installments of $5,000.00 each as I have previously explained to you. Certain moneys should be held for emergency, but not that it should be taken and never given back. That is not good. So this $20,000. should be returned in four months, as I have already described in my previous letter.
So far as statements of accounts, I am getting many statements from temples that are deficient in their economic situation. So far you are concerned, you have done so much for L.A. temple. So you do not change your position. If sometimes you go out, leaving all management to Dayananda, that is all right, but your permanent center should be L.A.
For the third edition of Krishna book, 10,000 will be sent to L.A. under your care and you will distribute them and collect the funds and send to my book fund. This system I want to introduce, or in other words all books printed for American and European distribution will be under your control. That is my idea. Kindly let me know your opinion in this connection. You can write to the new Bombay mailing address, given above.
Yes, the new thrones are actually super-excellent. So the 24" high Deities might have reached L.A. by this time, so when I return I shall hold the installation ceremony. I wanted that thrones be constructed like this, so you have introduced it. Personally I have already instructed and you are following. So make L.A. the ideal temple for all our temples to follow, in every respect. For this purpose, I purchased that house. I hope the installments on the house account are being paid regularly. I have not received the latest receipt since a long time, but I hope you are doing the right thing. This is a great responsibility. I think out of the $11,500.00 which I advanced during the purchase of the house has been fully paid except $1,700.00. Please check to see if I have it right. Besides that, from during Brahmananda's time, I am due to realize from BTG department about $8,000.00. $2900.00 was advanced to Iskcon Press in your presence and $5,000.00 Brahmananda was to pay but it was withheld on account of imminent expenditure. Please see to this.
So these improvements in my apartment are attracting me more and more to go there immediately. So sooner or later I am going there to engage fully in translation work and thus enjoy all your good company. Sriman Gargamuni Maharaj went to Pakistan but due to serious civil war trouble there, he has come to Bombay and he is staying with me for the present.
Please offer my blessings to the others there. Hoping this will meet you in good health.
Your ever well-wisher,



A.C. Bhaktivedanta Swami

ACBS/adb
Sriman Karandhar Das Adhikary
3764 Watseka Ave
L.A. Calif     90034