710331 - Letter to Rameswar Dayalaji Birla written from Bombay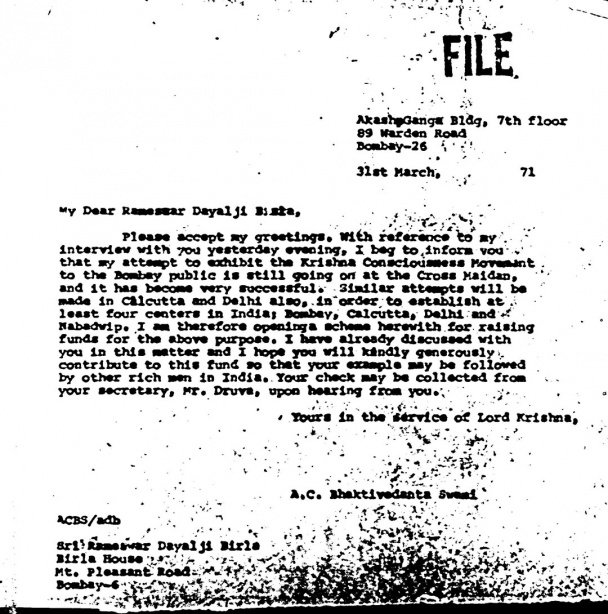 Akash-Ganga Bldg. 7th floor
89 Warden Road
Bombay-26
31st March,               71


My Dear Rameswar Dayalaji Birla,
Please accept my greetings. With reference to my interview with you yesterday evening, I beg to inform you that my attempt to exhibit the Krishna Consciousness Movement to the Bombay public is still going on at the Cross Maidan, and it has become very successful. Similar attempts will be made in Calcutta and Delhi also, in order to establish at least four centers in India; Bombay, Calcutta, Delhi and Nabadwip. I am therefore opening a scheme herewith for raising funds for the above purpose. I have already discussed with you in this matter and I hope you will kindly generously contribute to this fund so that your example may be followed by other rich men in India. Your check may be collected from your secretary, Mr. Dhruva, upon hearing from you.
Yours in the service of Lord Krishna,


A.C. Bhaktivedanta Swami

ACBS/adb
Sri Rameswar Dayalaji Birla
Birla House
Mt. Pleasant Road
Bombay-6