710330 - Letter to Gurukrpa (Gregg Gottfried) written from Bombay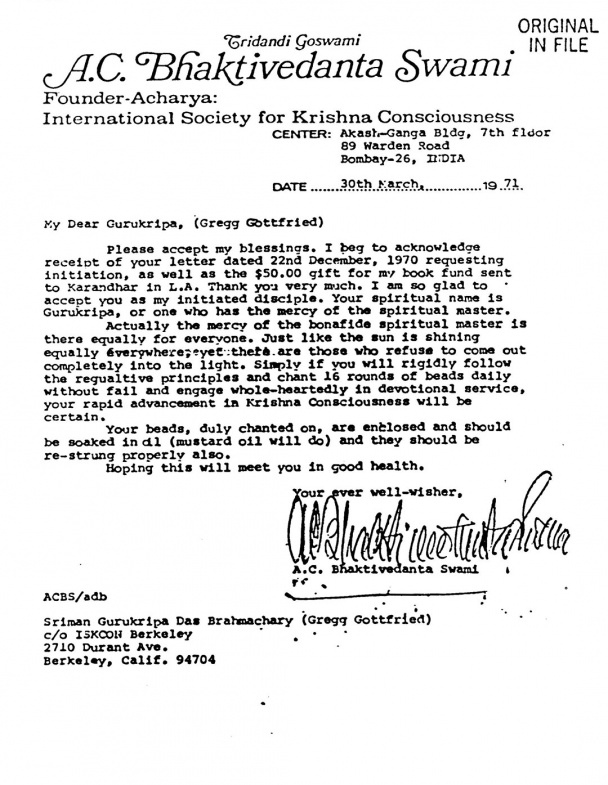 Tridandi Goswami
A.C. Bhaktivedanta Swami
Founder-Acharya:
International Society for Krishna Consciousness
CENTER: Akash-Ganga Bldg, 7th floor,
89, Warden Road,
Bombay-36, India.
DATE .......30th..March,...........19..71.

My Dear Gurukripa, (Gregg Gottfried)
Please accept my blessings. I beg to acknowledge receipt of your letter dated 22nd December, 1970 requesting initiation, as well as the $50.00 gift for my book fund sent to Karandhar in L.A. Thank you very much. I am so glad to accept you as my initiated disciple. Your spiritual name is Gurukripa, or one who has the mercy of the spiritual master.
Actually the mercy of the bonafide spiritual master is there equally for everyone. Just like the sun is shining equally everywhere, yet there are those who refuse to come out completely into the light. Simply if you will rigidly follow the regulative principles and chant 16 rounds of beads daily without fail and engage whole-heartedly in devotional service, your rapid advancement in Krishna Consciousness will be certain.
Your beads, duly chanted on, are enclosed and should be soaked in oil (mustard oil will do) and they should be re-strung properly also.
Hoping this will meet you in good health.
Your ever well-wisher,



A.C. Bhaktivedanta Swami

ACBS/adb
Sriman Gurukripa Das Brahmachary (Gregg Gottfried)
c/o ISKCON Berkeley
2710 Durant Ave.
Berkeley, Calif. 94704