710321 - Letter to Upendra written from Bombay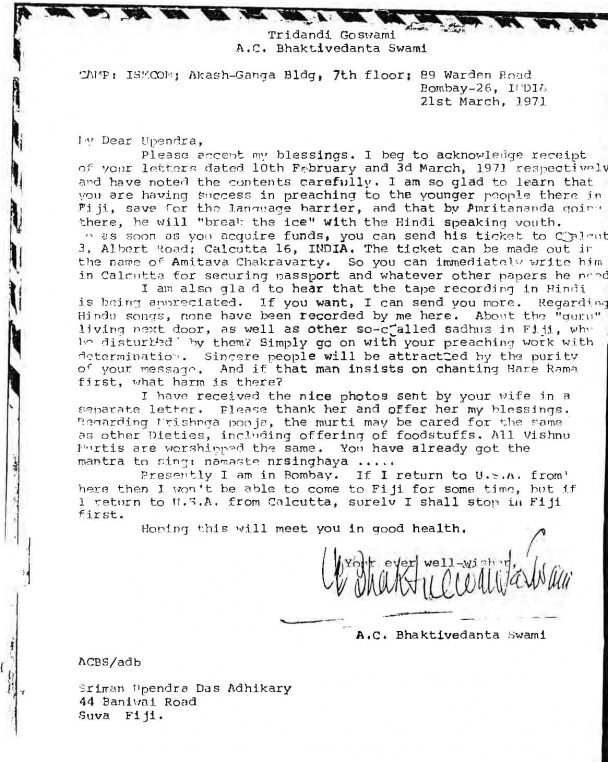 Tridandi Goswami
A.C.Bhaktivedanta Swami
CAMP: ISKCON; Akash-Ganga Bldg, 7th Floor; 89 Warden Road
Bombay-26, INDIA
21th March , 1971

My Dear Upendra,
Please accept my blessings. I beg to acknowledge receipt of your letter dated 10th February and 3rd March, 1971 respectively and have noted the contents carefully. I am so glad to learn that you are having success in preaching to the younger people there in Fiji, save for the language barrier, and that by Amrtananda going there, he will "break the ice" with the Hindi-speaking youth. So as soon as you acquire funds, you can send his ticket to Calcutta. 3 Albert Road; Calcutta 16, INDIA. The ticket can be made out in the name of Amitava Chakravarty. So you can immediately write him in Calcutta for securing passport and whatever other papers he needs.
I am also glad to hear that the tape recording in Hindi is being appreciated. If you want, I can send you more. Regarding Hindu songs, none have been recorded by me here. About the "guru" living next door, as well as other so-called sadhus in Fiji, why be disturbed by them? Simply go on with your preaching work with determination. Sincere people will be attracted by the purity of your message. And if that man insists on chanting Hare Rama first, what harm is there?
I have received the nice photos, sent by your wife in a separate letter. Please thank her and offer her my blessings. Regarding Nrsihnga pooja, the murti may be cared for the same as other Deities, including offering of foodstuffs. All Vishnu Murtis are worshiped the same. You have already got the mantra to sing: namaste nrsinghaya ......
Presently I am in Bombay. If I return to U.S.A. from here then I won't be able to come to Fiji for some time, but if I return to U.S.A. from Calcutta, surely I shall stop in Fiji first.
Hoping this will meet you in good health.

A.C. Bhaktivedanta Swami

ACBS/adb
Sriman Upendra Das Adhikary
44 Baniwai Road
Suva Fiji.