710222 - Letter to Kirtanananda written from Gorakhpur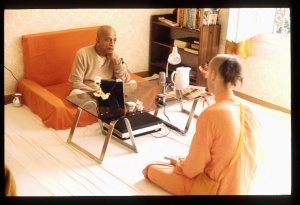 February 22, 1971

His Grace Kirtanananda Swami;
c/o New Vrindaban; R.D. 3
Moundsville, W.Va. 26041
Akash-Ganga Bldg, flat 7;
89 Bhulabhai Desai Rd.
Bombay-26, INDIA

My Dear Kirtanananda Maharaja,
Please accept my blessings. I am in due receipt of your letter dated 12th Janaury, 1971 and I have noted the contents carefully. Just recently I have written you one letter and I hope you have received it by now. I am so much pleased that things are going on nicely there in the centers visited by you. My fervent desire is that you travel in schools and colleges and impress them with our philosophy and try to introduce our books as far as possible. Writing children's stories based on Srimad Bhagavatam is good idea but your first business is to move in the schools and colleges and lecture there and introduce the books already published. Not that you should confine yourself to Pittsburgh and New Vrindaban. And to depend on the centers for bus fare is not very good. Sannyasi means that you should depend on Krishna. When Devananda Swami was lecturing in the schools in Boston, he was getting $25 to $75. So why not meet your expenses in that way?
So far as eating only two chopaties and a little vegetables daily, I never said that. I do not know why such news has spread without my written authority. One should eat as much as he requires. He should not over-eat, that is the point. Without eating properly how can we work? If one can digest them, then he can eat 20 chopaties, but if he cannot digest, then he should not even take two chopaties. The ayurvedic system is to take ½ of what you can eat only, the fill ¼ with water and leave ¼ for air. That will make for proper digestion. Little rice, dahl, some vegetables, some chopaties, like that, but eat right to the point to keep health steady.
So far as $50.00 fee for initiations, that same question was raised when you were in L.A. I said no then and it hasn't changed since. Please keep me informed of your activities there. Presently I am planning to return to U.S.A. by the month of April.
Hoping this will meet you in good health.
Your ever well-wisher,
A.C. Bhaktivedanta Swami
ACBS:adb