710215 - Letter to Karandhara written from Gorakhpur
From Vanisource
]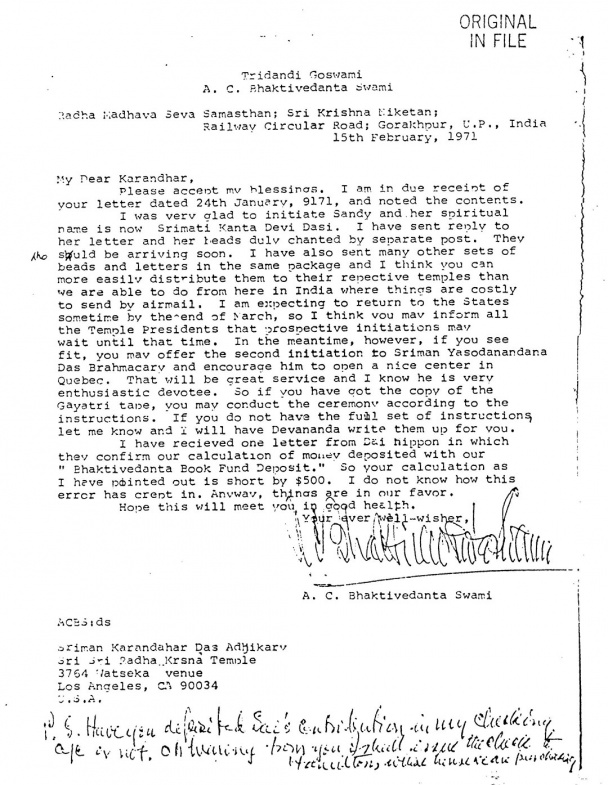 Tridandi Goswami
A.C.Bhaktivedanta Swami
Radha Madhava Seva Samasthan; Sri Krishna Niketan;
Sri Krishna Niketan; Railway Circular Road, Gorakhpur, U.P.,India
15th February, 1971

My Dear Karandhar,
Please accept my blessings. I am in due receipt of your letter dated 24th January, 9171, and noted the contents.
I was very glad to initiate Sandy and her spiritual name is now Srimati Kanta Devi Dasi. I have sent reply to her letter and her beads duly chanted by separate post. They should be arriving soon. I have also sent many other sets of beads and letters in the same package and I think you can more easily distribute them to their respective temples than we are able to do from here in India where things are costly to send by airmail. I am expecting to return to the States sometime by the end of March, so I think you may inform all the Temple Presidents that prospective initiations may wait until that time. In the meantime, however, if you see fit, you may offer the second initiation to Sriman Yasodanandana Das Brahmacary and encourage him to open a nice center in Quebec. That will be great service and I know he is very enthusiastic devotee. So if you have got the copy of the Gayatri tape, you may conduct the ceremony according to the instructions. If you do not have the full set of instructions, let me know and I will have Devananda write them up for you.
I have received one letter from Dai Nippon in which they confirm our calculation of money deposited with our "Bhaktivedanta Book Fund Deposit." So your calculation as I have pointed out is short by $500. I do not know how this error has crept in. Anyway, things are in our favor.
Hope this will meet you in good health.
Your ever well-wisher,



A.C. Bhaktivedanta Swami
ACBS:ds
Sriman Karandahar Das Adhikary
Sri Sri Radha Krsna Temple
3764 Watseka Avenue
Los Angeles, CA 90034
U.S.A.
P.S. Have you deposited Sai's contribution in my checking a/c or not. On hearing from you I shall issue the check to Hamiltons whose house we are purchasing [handwritten]