710215 - Lecture Offerings, Appearance Day, Bhaktisiddhanta Sarasvati - Gorakhpur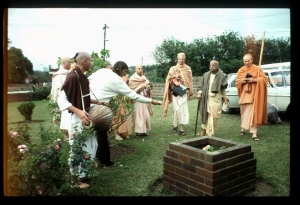 710215B2-GORAKHPUR - February 15, 1971 - 16:18 Minutes

Guest: Aur 1965 me Maharaja ihase America gaye. Jate samai inko swayam pata nehi tha hame keya karna hai. Jahaz pe inhone kavita bhi likhi engraji me, jis kavita ka bhasya ye tha ki Bhagawan Sri Krishna mujhe Amerika kyun bhej rahe hai? Prabhu prerana hai, Guru ka adesh hai. Wohi Prabhupad Sri Bhakti Siddhant ji Maharaja ka aaj janamdin hai.Jinki agga se, jinki adesh se, Maharaja ji, Prabhupad Maharaja ji America gaye the. Waha pe ja karke bahut hi kathinaio ka Maharaja ji ko samna karna para.Inka tep recorder chori chala gaya. Type machine chori chali gayi. Jaha yeh, jis kamre me rehte the waha par bahot birodh aya. Logo ne iha tak ki ande tak pheke. Kirtan karte the, man me kaha bhai ande pheko koi bomb mat phek na.Lekin phir bhi o nistha falit hoti hi hai. Jo andar, antarik jiban hota hai, o bahar pratifalit hota hi hai, abah Naam nistha or Prabhu kripa or Guru anugrah se o karya ka bistar waha par hua.Wohi par is International Society for Krsna Consciousness ki sthapna hui. Waha se phir New York, or us sakhao ka bistar ho paya jiska apna sab jante hi honge ki kafi din se aap log aa rahe hai.Waha par ek Nava Vrindaban ki sthapna hui hai. Jaise Vrindaban me sat pradhan mandir hai, Sri Radha Raman Ji ka, Govinda Dev Ji ka, Madan Mohan Ji ka, isi prakar se waha par un (break) ho rahi hai. Fir kyun na ek Nava Vrindavan ki sthapna ho is tarah se bahot bara kshetrah le kar ke waha par ek Nava Vrindaban basaya gaya hain. Us bhumi, ek parbat bhi uska naam Govardhan rakhha . . . (And in 1965 Maharaja went to America from here. At that time he himself was not aware what he will be doing. In the ship he even wrote a poetry in English. The subject matter of that poetry was that, "Why Lord Kṛṣṇa is sending me to America?" By the motivation of Lord, by the mercy of Guru. Today is the appearance day of Prabhupada Srila Bhaktisiddhanta Saraswati Mahārāja. By whose order, by whose instruction, Mahārāja, Prabhupāda Mahārāja went to America. Mahārāja had to face a lot of hardships after going there. His tape recorder was stolen. Typewriter was stolen. Where he was staying, in that room he had to face severe threats. People even threw eggs on him. He used to do kirtan and used to think that if they are throwing eggs that's okay, but please don't throw bombs. Whatever, that sincerity surely gets rewarded. The internal sincere life gets reflected outwardly. Because of sincere dependence on Nama, by the mercy of the Lord and by the mercy of Guru the mission got spread over there. This International Society for Kṛṣṇa Consciousness was established there. From there to New York, and it got spread to many other branches, which you already are aware of as you are coming here for quite a few days. A new Vṛndāvana was established there. Like in Vṛndāvana the seven main temples are there, of Sri Radha Raman, Govinda Dev, Madan Mohan, like that only there also (break) is happening. So why not there be a new Vṛndāvana, with that idea the New Vṛndāvana is set up there in a huge tract of land. In that land, one mountain is there which is named Govardhan . . .)
Prabhupāda: Nava Nabadwip bhi banaya. (Also established New Nabadwip.)
Guest: Nabadwip bhi. (Nabadwip also.)
Prabhupāda: Huwai dwip me. (In Huwai island.)
Guest: Achha. Waha per hua tha. To waha pe ek parbat bhi hai, us parbat ka naam Govardhan parvat rakhha gaya hai. Aur waha par go charan, go palan . . . (Okay. It happened there. So a mountain is also there. The name of that mountain is Govardhan hill. And there are cows grazing, cow protection . . .)
Prabhupāda: Ek Keshi Ghat bhi banaya gaya. (One Keshi ghat also been made.)
Guest: Keshi ghat bana ek han! Jis prakar se Vrindaban hai, Braja mandal hai, usi prakar se waha par Braja mandal ki bhabna ki gayi hai. Ab usko develop kiya ja raha hai. Aur uski dekh rekh ka bhar, umm . . . kon si byakti ki Maharaja hai . . . umm . . . Hai . . . Hayagrib Maharaja? (Oh, one Keshi ghat was built. The way Vṛndāvana is there, Braja mandal is there, in that way the idea of Braja mandal is done there. Now that is being developed. And the responsibility of that place's maintenance, umm . . .)
Prabhupāda: Han . . . (indistinct Hindi)
Guest: Kis university se hai wo. (From which university is he from.)
Prabhupāda: Ohio University.
Guest: Oh Ohio! Ohio university ke professor the, unhone apna sara kam chor kar ke, hmm . . . uha uska sara kam samhal rahe hai. Unka bartaman nam Sri Hayagrib ji hai. Wo professor the, or sara kam samhal rahe hai.Waha . . . (indistinct) . . . phir bad me, jaisa ye naba Vrindaban ke sthapna hui, aise Hawai dwip me, waha par Nabadwip ki sthapna hui hai. Phir England me mandir khula hai. Australia me khula hai. Germany me khula hai. Japan me khula hai. Yeh karya bistar ho raha hai. Yeh karya bistar jin gurudev ki kripa se, adesh se hua, Bhaktisiddhant Ji Maharaj. Un hi ka aaj pawan janma dibas hai. Aur unhi ke, unki yojana to thi bahut bishal rup se manane ki. Aur Maharaja ji ne Gita batika me kehlaya tha ki, gita batika me jitne log hai, gita press me jitne log hai, ya nahi jinki umm Gita . . . Poddar Ji ko le kar ke, inse samprikt jitne byakti hai sabhi log yaha par abe aur prasad grahan kare. Kintu unki aswastha ke karan woh nimantran swikar nahi ho saka.Kal raat ko gita batika me filmi show tha. Aur inhone apni ek record bhi bhar rakhha hai, Govinda jai jai, Gopal jai jai. Woh record waha pandal me bajaya gaya. Pandal ko . . . apni kamre soye soye Poddar Ji ne , Babu ji ne suna, aur bahut pasand kiya. Balki phir usime taiar hua ki oh film mai sahi me dekhunga or aaj dekh hi . . . (Oh Ohio. He was a professor from Ohio university, he has left all his engagement there . . . he is taking care of all the activities here. His present name is Hayagriva. He was a professor, and he is managing all the work. There . . . (indistinct) . . . and later, as this New Vrindaban got established, like this in Huwai Island, Nabadwip got established there. Then a temple was opened in England. Opened in Australia. Opened in Germany. Opened in Japan. This mission is getting spread. Srila Bhaktisiddhanta Vṛndāvana. The spiritual master, by whose mercy, by whose order this mission is getting spread widely. Today is his most auspicious appearance day. And his, his plan was to celebrate this occasion in a grand way. Ana during the discussion at Gita Batika, Vṛndāvana said that all the people from Gita Batika, all the people from Gita press, not only all these, umm Gita . . . including Mr. poddar and all people who has any relation with him, let all of the people assemble here and honour prasadam. But due to his health condition this invitation could not be accepted. There was a film shown yesterday night at Gita Batika and he has also kept one of his records there, Govinda Jai Jai, Gopala Jai Jai. This record was being played in the pandal. And Mr. Poddar heard it while laying down in his room, he heard it and he liked it very much. And after that it was decided that he will see that film for sure and today there was plan to show . . .)
Prabhupāda: (indistinct Hindi) . . . dikhaiye na. ( . . . show him then.)
Guest: Unki tabiyat jada kharab ho gayi. (His health condition worsened.)
Prabhupāda: Phir jada kharab? (Much worse again?)
Guest: Han. Phir unhone kaha ki maine un se kaha ki Mahara ji ne, Prabhupad ji ne kaha hai ki kam se kam record wah zarur sune.Aur unke sishya Sri Tamal Krishnaji aye thi. Ake unhone bara agraha kiya ki kamse kam record to suni nahi. To Babu ji ne kaha ki mai zaroor sununga. Par raat ko unko bahut bechaini se nikli. Kuch gastric trouble thi. Aur aaj bhi kafi taqlif rahi, to is kara se woh . . . (indistinct) . . . nahi ho saka.Phir kabhi hoga.Lekin usko dekh kar malum hota hai, ye kis prakar Krsna bhakti se, yeh Hare Ram mantra,Hare Ram ka sandesh, Gita ka sandesh, Krsna ka sandesh, inh paschimi jagatse iska bistar hua hai. (Yes. Then he said, I said to him that Mahārāja, Prabhupāda said that he should at least hear the records. And his disciple Tamal Kṛṣṇa, he came. He also insisted that at least the record should be heard once. Then Mr. Poddar said that he will surely hear it. But he was very restless at night. Some gastric problem was there. And today also he was suffering. So for that reason . . . (indistinct) . . . it could not be done. It will happen sometime in the future. But just by watching it one can understand, how this process of devotional service to Krsna. This Hare Rama mantra—the message of Hare Rama, the message of the Gita, the message of Kṛṣṇa—how it got widely accepted in the Western world.)
Prabhupāda: Yeh Hare Krsna record sara Europe America ghar ghar me baja raha hai, nach raha hai. (This Hare Kṛṣṇa record is being played all over Europe America in every household and people are dancing.)
Guest: Achha. Aur wahan par woh kabhi, yahan bhi aapko reel dikhaye hamari. wahan Ratha yatra ka jo drishyo hai, ki anek vyakti, yu nahi ki kath ki pahio par uski jaise apni Jagannath Puri me hota hai, kath ki pahio par bhi, pahio par bhi bahut bara rath bana kar ke usme Subhadra Ji, Balaram Ji aur bhagawan Sri Krsna, tin murtiya hai. Un Tino ki pratistha karke jitna bhabya dhang se jolush nikla wah bahut hi darshania hai. (That's nice. Sometimes there and here also we have shown the reel of ours. There the scene of Rathayatra—that many people, not only like the wooden wheels like that happen in Jagannath Purī, in the wooden structure also and just upon the wheels a big chariot is made and in that chariot Subhadra Maharani, Balaram and Lord Kṛṣṇa is placed, three Deities are there. After establishing the three deities, a very spectacular procession gets out in a very sober manner.)
Prabhupāda: Pachhis hazar admi ko prasad . . . (Prasadam for twenty five thousand people . . .)
Guest: Pachhis hazar admi, woh dekhne se, apar bhir hai. Ya nahi ki ise kehte hai, kahunga ki yeh college vidyarthi, jo uddyanda kahe ja sakte hai, usrinkhal kahe ja sakte hai, utpati kahe ja sakte hai. Is Hare Ram mantra ki jadu ma kitne anusasit, kitne shanta, kitne binamra ho sakte hai uska bhi ek namuna uske andar hai. Kis prakar waha Gita ka bikray ho raha hai. Log ghum ghum kar . . . California ke jo bahut busy street hai, main market, waha pe kis prakar kirtan ho raha hai, oh sare drishya is film ke andar hai. Use dekh kar poddar ji bahut hi prasanna hue. Aur un rat pe jo baat chit ho rahi thi, us samai Babu ji ne kaha hai ki bhakt sthania Maharastra me ek bisesh parichay hai. Aur unhone apni haat se likh kar mujhe ek sattar pristh ka likh dia tha. Woh batane ke liye unka hi koi sishya aya tha. Usne manga. Maine woh lekh unko de diya. Agar oh lekhai mere pas hota to kam ata.Aur rat ko Babu ji ne kaha ki kal jab jaoge tum mujh se sandesh lekar jana. Mai likh karke sandesh dunga. Do pahar ki ye . . . (indistinct) . . . apni aswasta ka karan nahi likh paye. Phir bhi ane ke pehle unke pas gaya. Kaha ki abhi jada mai likh nahi pa raha hu. Mera pranam keh na Maharaja ji ko. Aur har prakar se meri ye sadbhabana hai ki yeh karya jitna phaile utna hi achha hai. Manab ki safalta isi me hai ki uske jiban me kam se kam tin bato ka bikas ho. Iswar-anurukti, jara me birakti our daivi sampatti. Daivi sampatti mane sadachar. Inki is andolon me sadachar ko jis tara mahatya dia ja raha hai uski Babu ji ne mukta kanthe sarhana ki hai. Jo bhi isme ata hai, dikhhit hota hai, uske liye ey char pach niyam to atyabashyak hai. Kisi prakar ke neshe baji ka prayog nahi karna,oh chahe . . . sharab to bahut dur hai, sabhi chai ka bhi prayog nahi karte. Abaidh youn sambandha, illigal sexual relationship, woh bilkul na ho.Iske bad jua adi na ho. Aur yeh . . . solaha mala Hare Ram Hare Krsna jo mahamantra hai, iska japna abashyak hai. Is prakar me sadachar ka jo mahatya dia hai, oh itna mahatyapurna hai, isko dekh kar Babu ji bahut prasanna hue. Aur is prakar se woh jo karya unhe nahi kar pa rahe the ki un paschim jagat me, jo bhoutikta se atyadhik ugra me hai. Unke andar ja karke unhone is Hari nam ka sandesh sunaya. Aur jo safalta mili hai woh ek Chaitanya Mahaprabhu ki us bani ko . . . (indistinct) . . . karti hai, jis pe unhone kaha hai ki ek din kabhi aisa hoga. Yeh bani aaj se pancso barsh purb kahi gayi thi. Ek din aisa din hoga, ki biswa ki nagar nagar me, gram gram me, is Harinam kirtan ka uchha ghosh hoga. Ohi bat, uska . . . (indistinct) . . . ab hame dikhai de rah hai. Jin Maharaja Ji ki adesh se gaye the unhi ka aaj janam dibas hai. Unke charano me sabhi shradhyanjali arpit karte hai. Aur unse ashirbad mangte hai. Bhagwan se prarthna karte hai ki woh Chaitanya Mahaprabhu ka swapna shighra hi sakar ho.
(Twenty five thousand people, just by seeing it, it's a huge crowd. This is not said to be, just say that these college students, we can say them ruthless, we can say them chaotic, say them disturbing. But the miracle of this Hare Rama mantra, how it can make them so disciplined, so gentle, so humble, that example is also there for you to see. How the selling of Gita is happening there. These people are traveling everywhere . . . in the very busy streets of California, in the main market, the way kirtan is happening there, all such scene is there in this film.
Mr. Poddar became very pleased after watching that. And that night, during the discussion, Mr. Poddar told that . . . (indistinct) . . . does have a special identity. And he had given me a seventy page document which he wrote personally. Too intimate about that, some of his disciples came. He asked for that. I had given him that writing. Had that writing been with me now, it could be of good use. And Mr. Poddar told me at night that when you go the next day, please take one message from me. I will write a message. At noon time . . . (indistinct) . . . couldn't write due to his ill health. Still before coming here I went to see him. He said I am not able to write much now. Please convey my obeisances to Mahārāja. And in every way my best wishes are there for this mission , the more it gets spread the better. The success of humans depends on the development of at least these three aspects in their life. Attachment to God, detachment to matter and divine wealth. Divine wealth means good character and conduct. Mr. Poddar greatly appreciated the emphasis they give on the importance of good character and conduct in this mission. Whoever comes to this mission, takes initiation, essentially they have to follow these four five regulative principles. Not to be engaged in any type of intoxication, it may be . . . they don't even take tea forget about wine. Illicit sexual relationship, illegal sexual relationship, totally forbidden. Then no gambling and things like that. And this . . . the chanting of Hare Rama Hare Krsna mahamantra is mandatory.
In this way they have put so much stress on the good character and conduct, how much importance is given to it, by seeing this Mr. Poddar have become extremely pleased. And in this way, that work which was not getting done, in the western world which is too much obsessed with materialism. By going inside their own territory, he has spoken the message of Hari Nam. And the success that is received, that does . . . (indistinct) . . . those words of Caitanya Mahaprabhu, where He had said that one day will come. These words were spoken five hundred years before today. One day a time will come, when in all the towns and villages of the world this Harinam kirtan will be loudly chanted. The possibility of fulfillment of that forecast is being seen by us now. By whose order he went there, today is the appearance day of that Mahārāja. Let us all offer our respectful homage unto his lotus feet. And let us seek blessings from him. I pray to Lord that may that dream of Caitanya Mahāprabhu will materialize very soon.)
Prabhupāda: English se bolne se aap log ko to asubidha nahi hoga? Yeh log khud English me bole hai. (Won't you have a problem if English is spoken? These people will speak in English.) So, you can speak something in English . . . and some of the messages . . . and first of all you speak something.
Tamal Kṛṣṇa: (Chants Śrīla Prabhupāda Praṇati)
I am offering my most respectful and humble obeisances unto the lotus feet of my Guru Mahārāja who is most dear unto Lord Kṛṣṇa for he has taken complete shelter of the Lord's transcendental lotus feet. We are offering our respectful and humble obeisances unto you Śrīla Prabhupāda because you are the servant of Sarasvatī Gosvāmī and you are so kindly delivering the message of Lord Caitanya-deva throughout the western countries and you are ridding them of impersonalism and voidism.
By the grace of our Guru Mahārāja we have somehow been able to hear this message of Bhagavad-gītā and Śrīmad-Bhāgavatam. Before meeting Śrīla Prabhupāda our lives were very much enveloped in materialism and we were simply calculating how we could become advanced materially, thinking that we could become happy in life. But anyone who has tried simply to become happy through materialistic means knows that it is a very difficult path. In fact it is impossible to become happy materially alone. So by the grace of our Guru Mahārāja somehow we have been fortunate enough to hear this message of Kṛṣṇa consciousness.
Śrīla Prabhupāda came just in the nick of time because for many of us we had become very much frustrated in our materialistic endeavours and Prabhupāda delivered this message of Śrī Kṛṣṇa Caitanya Mahāprabhu. Caitanya Mahāprabhu's message is for everyone and it does not matter whether he is from India, or whether he is from the United States, whether he is from the Soviet Union. Caitanya Mahāprabhu's message is that everyone has a relationship with God, with Kṛṣṇa.
But that relationship has become forgotten and so it must be reawakened. Just like everyone, everyone is originally Kṛṣṇa conscious. But this Kṛṣṇa consciousness has been covered, just as the sun is sometimes becomes covered by the clouds. But still the sun is there, in the same way we are originally God conscious or Kṛṣṇa consciousness. But we have forgotten that original consciousness. So Caitanya Mahāprabhu's instructions are for everyone, he says:
harer nāma harer nāma
harer nāmaiva kevalam
kalau nāsty eva nāsty eva
nāsty eva gatir anyathā
In this age of Kali the most effective way, or to uncover our original consciousness is by chanting this Hare Krishna mantra. And you can see from us here that it is not something artificial. Just like we are coming from western countries, we had perhaps never heard of Lord Kṛṣṇa five years ago. But simply by chanting this Hare Krishna mantra our relationship with Kṛṣṇa, our remembrance of Kṛṣṇa has been revived. So everyone has within him this natural love of God and simply it has to be revived and the process is this chanting of Hare Krishna mantra.
Today is a very special day for us because it is the appearance day of Śrī Bhaktisiddhānta Sarasvatī Gosvāmī Mahārāja. Our spiritual master's Guru Mahārāja. Śrīla Bhaktisiddhānta is the founder ācārya of the Gauḍīya Maṭha. The Gauḍīya Maṭha has so many branches throughout India and he is the most stalwart ācārya since the time of Śrī Rūpa Gosvāmījī, Śrī Jīva Gosvāmī. Bhaktisiddhānta Sarasvatī Mahārāja has given our Guru Mahārāja the mission of preaching Kṛṣṇa consciousness in the English-speaking countries. And so it is by his grace also that we have had the chance to receive this Kṛṣṇa consciousness.
I would like to read these prayers which were written by my spiritual master Śrī A. C. Bhaktivedanta Svāmī Prabhupāda on the Vyāsa-pūjā day of his Guru Mahārāja. Prabhupāda wrote:
Adore ye all,

The happy day.

Blessed than Heaven,

Sweeter than May.

When He appeared at Puri,

The holy place,

My Lord and Master

His Divine Grace.
Oh! my Master

The evangelic angel.

Give us thy light,

Lift up thy candle.

Struggle for existence

A Human race,

The only hope

His Divine Grace.
Misled we are

All going astray,

Save us Lord

Our fervent pray,

Wonder thy ways

To turn our face

Adore thy feet

Your Divine Grace.
Forgotten Krishna

We fallen souls.

Paying most heavy

The illusion's toll.

Darkness around

All untraced,

The only hope

His Divine Grace.
Absolute is sentient

Thou hast proved.

Impersonal calamity

Thou hast moved.

This gives us a life

Anew and fresh.

Worship thy feet

Your Divine Grace.
Had you not come

Who had told,

The message of Krishna

Forceful and bold,

That's your right

You have the mace.

Save me a fallen

Your Divine Grace.
The line of service

As drawn by you,

Is pleasing and healthy

Like morning dew.

The oldest of all

But in new dress

Miracle done

Your Divine Grace.
(pause) (end)