710131 - Letter to Mulchand Deomal written from Allahabad
From Vanisource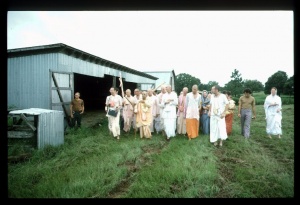 January 31, 1971

Sri Mulchand Deomal
Dad Bathena Bldg;
Palia St., Nanpura;
Surat
My Dear Mulchand Deomalji,
Please accept my greetings. I am in due receipt of your two letters dated 22nd and 23d January, 1971, respectively and I beg to acknowledge with thanks your contribution of Rs. 100.
You are so kind upon me that you are taking very serious interest in my Krishna Consciousness Movement. Certainly Krishna will benedict you with progressive devotional service for Him and I shall always pray for your higher spiritual life. I wish to request you to come and live with me but that you have already said will not be possible for you. So your help to my book fund is very much welcome. You have so kindly desired to contribute Rs. 500 in this connection. So you can conveniently directly send this money by Mail Transfer, to my book fund account, no. HSS 14538 in the Central Bank of India, Gowalia Tank branch, Bombay. The procedure is that you go to the local Central Bank in Surat and ask them to transfer your money by mail which is technically called M.T. So there will be no difficulty. You can simply intimate me that you have transferred such and such amount through the Central Bank at Surat. Then I'll take care of it.
We have now taken a very nice floor in Bombay; the address is given above as our CAMP address. By the end of March we will have Deity installation ceremony for one week. At that time, if possible please come and join us. I hope you are reading my books with interest and any questions that arise out of such studies may be inquired from me directly. Very soon you'll receive all the other books, as they have arrived in Bombay.
Thanking you once more for your kindly help. Hoping this will meet you in good health.
Yours sincerely,
A.C. Bhaktivedanta Swami
ACBS/adb