710130 - Letter to Jagadisa written from Allahabad
From Vanisource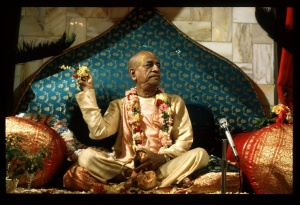 January 30, 1971

My Dear Jagadisa,
Please accept my blessings. I am in due receipt of your letter dated 13rd January, 1971 and also the telegram sent by you indicating that Drew Pederson should not be initiated. None of the devotees recommended by you have been initiated as yet. I am still waiting for either their own beads to be sent or preferably $5.00 to cover the cost of tulasi beads gotten from here, as well as shipping costs. In either case some presentation should also accompany the same. As soon as a disciple takes initiation, he immediately is supposed to beg alms and make a presentation to the Spiritual Master. In that light, all devotees who are taking initiation must make a presentation to the Spiritual Master. That is the system.
I am so glad to hear how nicely the Canadian temples under your expert guidance as GBC member are expanding so nicely. From Montreal I've received French BTG no. 9 from Gopala Krishna. The quality of the magazine has greatly improved. From Hamilton I've received one letter from Dharmaraj. The progress he is making there is most encouraging with four new devotees already. Also his good wife Gunamayi has sent some very expertly done portraits of My Guru Maharaja and Myself. She is very talented girl and should continue her painting work very seriously. That Vancouver has last reported 13 new devotees there is most encouraging. Mahatma das is very sincere boy; how else Krishna has sent him 13 new devotees there?
So far as Toronto is concerned, the engagement described by you sounds very nice and if you can arrange it, I shall certainly come. I shall be returning to the U.S.A. by the end of March. So you let me know if it is possible.
If any of the temples are in need of karatalas or khol mrdanga, you can contact Jayapataka Swami at the following address: 11 B Jatindra Mohan Ave; Calcutta-6, India.
Please offer my blessings to the others. Hoping this will meet you in good health.
Your ever well-wisher,
A.C. Bhaktivedanta Swami
ACBS/adb