701231 - Letter to Murari written from Surat
From Vanisource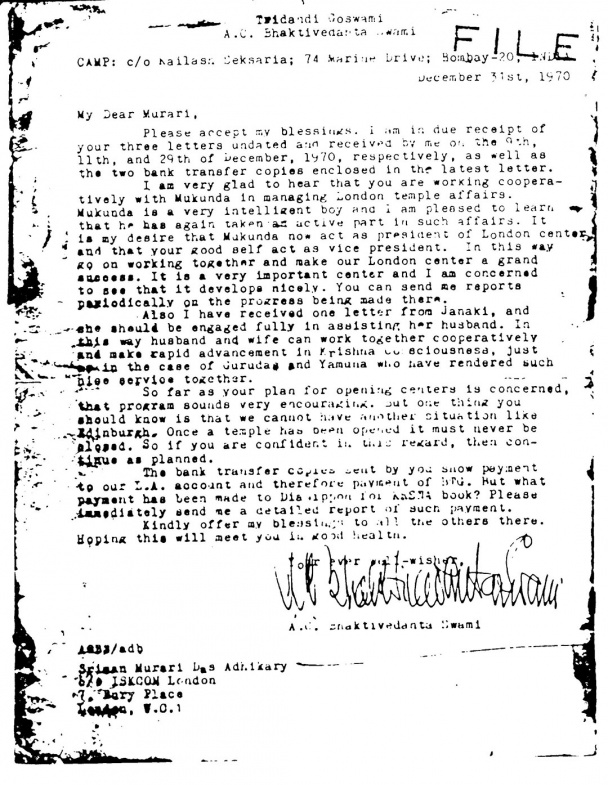 Tridandi Goswami
A.C. Bhaktivedanta Swami
CAMP: c/o Kailash Seksaria; 74 Marine Drive; Bombay-20, India
December 31st, 1970

My Dear Murari,
Please accept my blessings. I am in due receipt of your three letters undated and received by me on the 9th, 11th, and 29th of December, 1970, respectively, as well as the two bank transfer copies enclosed in the latest letter.
I am very glad to hear that you are working cooperatively with Mukunda in managing London temple affairs. Mukunda is a very intelligent boy and I am pleased to learn that he has again taken an active part in such affairs. It is my desire that Mukunda now act as president of London center and that your good self act as vice president. In this way go on working together and make our London center a grand success. It is a very important center and I am concerned to see that it develops nicely. You can send me reports periodically on the progress being made there.
Also I have received one letter from Janaki, and she should be engaged fully in assisting her husband. In this way husband and wife can work together cooperatively and make rapid advancement in Krishna Consciousness, just as in the case of Gurudas and Yamuna who have rendered such nice service together.
So far as your plan for opening centers is concerned, that program sounds very encouraging. But one thing you should know is that we cannot have another situation like Edinburgh. Once a temple has been opened it must never be closed. So if you are confident in this regard, then continue as planned.
The bank transfer copies sent by you show payment to our L.A. account and therefore payment of BTG. But what payment has been made to Dia Nippon for KRSNA book? Please immediately send me a detailed report of such payment.
Kindly offer my blessings to all the others there. Hoping this will meet you in good health.
Your ever well-wisher,



A.C. Bhaktivedanta Swami
ACBS/adb
Sriman Murari Das Adhikary
ISKCON London
7 Bury Place
London, W.C.1