701231 - Letter to Mukunda written from Surat
From Vanisource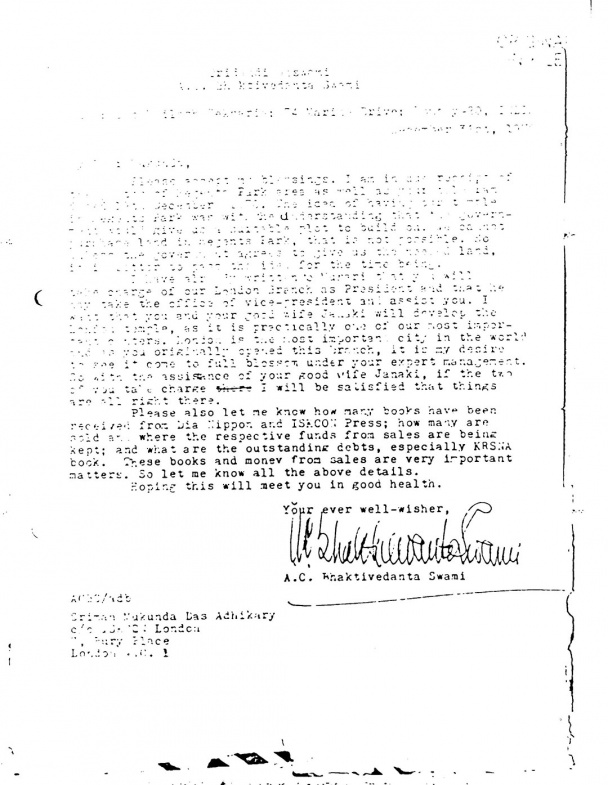 Tridandi Goswami
A.C. Bhaktivedanta Swami
CAMP: c/o Kailash Seksaria; 74 Marine Drive, Bombay-20
December 31th, 1970

My Dear Mukunda,
Please accept my blessings. I am in due receipt of the photos of Regents Park area as well as your telegram dated 19th December, 1970. The idea of having our temple in Regents Park was with the understanding that the government would give us a suitable plot to build on. We cannot purchase land in Regents Park, that is not possible. So unless the government agrees to give us the needed land, it is better to pass the idea for the time being.
I have already written to Murari that you will take charge of our London Branch as President and that he may take the office of vice-president and assist you. I want that you and your good wife Janaki will develop the London temple, as it is practically one of our most important centers. London is the most important city in the world and as you originally opened this branch, it is my desire to see it come to full blossom under your expert management. So with the assistance of your good wife Janaki, if the two of you take charge I will be satisfied that things are all right there.
Please also let me know how many books have been received from Dia Nippon and ISKCON Press; how many are sold and where the respective funds from sales are being kept; and what are the outstanding debts, especially KRSNA book. These books and money from sales are very important matters. So let me know all the above details.
Hoping this will meet you in good health.
Your ever well-wisher,



A.C. Bhaktivedanta Swami
ACBS/adb
Sriman Mukunda Das Adhikary
c/o [unredeble] London
7 Bury Place
London[unredeble]