701228 - Letter to Tulsi written from Surat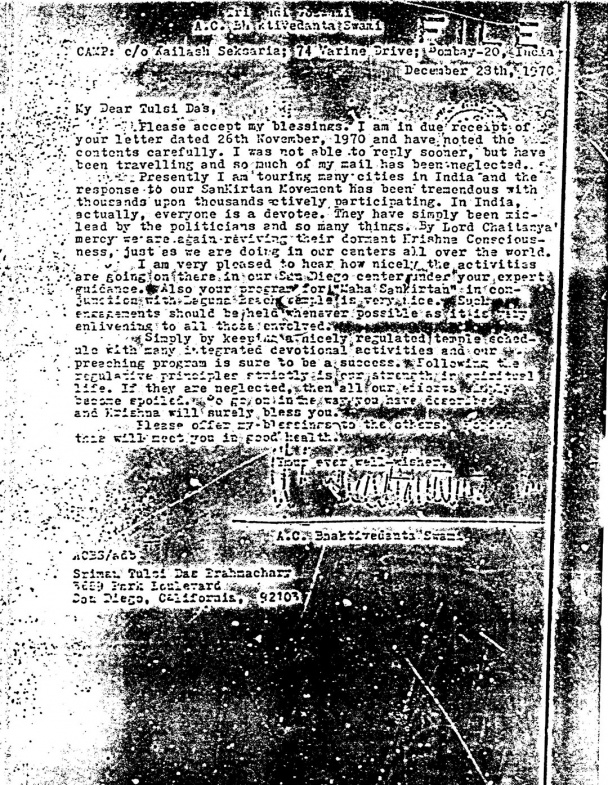 Tridandi Goswami
A.C. Bhaktivedanta Swami
CAMP: c/o Kailash Seksaria; 74 Marine Drive; Bombay-20, India
December 28th, 1970

My Dear Tulsi Das,
Please accept my blessings. I am in due receipt of your letter dated 26th November, 1970 and have noted the contents carefully. I was not able to reply sooner, but have been travelling and so much of my mail has been neglected.
Presently I am touring many cities in India and the response to our Sankirtan Movement has been tremendous with thousands upon thousands actively participating. In India, actually, everyone is a devotee. They have simply been mislead by the politicians and so many things. By Lord Chaitanya's mercy we are again reviving their dormant Krishna Consciousness, just as we are doing in our centers all over the world.
I am very pleased to hear how nicely the activities are gong on there in our San Diego center under your expert guidance. Also your program for "Maha Sankirtan" in conjunction with Laguna Beach temple is very nice. Such engagements should be held whenever possible as it is very enlivening to all those involved.
Simply by keeping a nicely regulated temple schedule with many integrated devotional activities and our preaching program is sure to be a success. Following the regulative principles strictly is our strength in spiritual life. If they are neglected, then all our efforts simply become spoiled. So go on in the way you have described and Krishna will surely bless you.
Please offer my blessings to the others. Hoping this will meet you in good health.
Your ever well-wisher,



A.C. Bhaktivedanta Swami
ACBS/adb
Sriman Tulsi Das Brahmachary
3689 Perk Boulevard
San Diego, California, 92103