701214 - Conversation B - Indore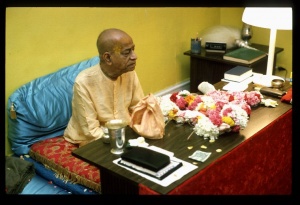 (The previous text on this page is now: 701214 - Conversation C - Indore)
701214R2-INDORE - December 14, 1970 - 14:52 Minutes

Prabhupāda: (to Indian man) Where is your son? Nirvisheshvadi jo hote hai, unka kehna hai jo Bhagavan yadi sab jagah ho gaya, toh ek alag kaha reh gaya? (The impersonalists say that if God is present everywhere then how can He exist simultaneously as a separate individual?) This is material conception. Just like jaisa hum log kahi baithe hai, jaisa ye kamra me, dusri jagah me hai nahi abhi, yehi hai . . . Bhagavan aise nahi. Wo sarvatra hai. Wo apne jagah me rehte hue bhi sarvatra hai. Goloka eva nivasaty akhilatma bhuto. Ye shastra me hai. To Mayavadis ka bhram hai ki Bhagavan jab sab jagah me hai to phir unka person kaha reh gaya. Isliye wo log nirvisheshvadi ho jata hai, impersonalist. Bhagavan jab sab jagah hai to unka person . . . unka khyal hai jaise koi jada vastu . . . ap usko tukda tukda karke charo or faila dijiye to wo jo original form hai wo nahi rahega. (Just like we are sitting somewhere, in this room for example, then we are not present anywhere else. God is not like this. He is omnipresent. He can be in His abode and still be present everywhere. Goloka eva nivasaty akhilātma-bhuto (Bs 05.37). This is given in the scriptures. So impersonalists have this misconception that if God is present everywhere then where is His Personality existing any more. Therefore they become impersonalists. If God is everywhere, then His person . . . they think that just like a material object cannot retain its original form if we break it into pieces and spread everywhere.) This is material conception.
Vedic conception purnasya purnam adaya purnam evavasisyate. Purna se purna lene se purna hi reh jata hai. To Bhagavan se anek vistar hote huye bhi . . . svamsa, vibhinnamsa. Bhagavan svamsa rup se anek Visnu tattva ka rup hai aur vibhinnamsa se jiva rup hai. Ye anek hote huye bhi purnasya purnam adaya purnam evavasisyate. Bhagavan purna hi rehte hai. Ye Vedic siddhanta hai. Ha, to isliye Bhagavan jo purna Bhagavan Krishna . . . (pūrṇasya pūrṇam ādāya pūrṇam evāvaśiṣyate (Īśo Invocation). If we take out a complete unit from the complete whole then what remains is the complete whole. So God expands multiple times - svāṁśa, vibhinnāṁśa. God creates many Viśnu tattvas by svāṁśa and jiva tattvas by vibhinnāṁśa. Even though they are many, still pūrṇasya pūrṇam ādāya pūrṇam evāvaśiṣyate. God remains complete. This is Vedic conclusion. So, God, the complete God Kṛṣṇa . . .)
Indian man: Krishnas tu Bhagavan swayam . . . (indistinct) . . . karna humara shauk hai. (Kṛṣṇas tu bhagavān svayam (SB 1.3.28) . . . (indistinct) . . . doing this is our passion.)
Prabhupāda: Swayam. Maharaj to sab jante hai. Apko to samjhana hi . . . tab bhi humara uchit hai jo kuch hum jante hai. Thik hai. Aisi to honi chahiye. Pehle to sab rajarshi hote the. Sat sanga karte the. Rajarshi jab chut gaya, monarchy chut gaya. Raja log jab sat-sanga chodh diya aur . . . ha ayogya ho gaya. Nahi to raja to Bhagavan ka pratik swarup. Narayana ka pratik swarup aisa bola jata hai. Nar-Narayana. Naradeva, raja ka nam hai Naradeva. Nar rup se Bhagavan. Raja ka uttardayitva bhi bohot hai. Yada yada hi dharmasya glanir bhavati - glani hone shuru, adharmasya abhyuthanam. Dharma jab kharap ho jata hai to adharma badh jata hai jaisa ajkal ho raha hai. To Bhagavan Krishna hi hum log ka aradhya vastu hai aur yehi hum log sara duniya me sikha raha hun. Aur ye log dekhiye sab grahan kiya hai aur usko sadharan Kali yuga ke liye koi mushkil nahi hai. Bas nam japa karo . . . Hare Krsna Hare Krsna Krsna Krsna Hare Hare Hare Rama Hare Rama Rama Rama Hare Hare. (Svayam. Mahārāja knows everything. To give you any explanation . . . still, whatever I know I should. Okay, this is how it should be. Previously, all kings used to be saintly kings. They used to associate with devotees. When saintly kings disappeared, monarchy also vanished. When kings gave up the association of saintly people . . . they became ineligible. Otherwise, the king is the representative of God. It is said that they are representatives of Nārāyaṇa. Nara-Nārāyaṇa. Naradeva, the king is called Naradeva . . . human representative of God. The king's responsibility is tremendous. Yadā yadā hi dharmasy glānir bhavati - glānih begins, abhyutthānam adharmasya (BG 4.7). When there is a decline of religion, irreligion increases, like how its's happening nowadays. So Lord Kṛṣṇa is our object of worship and this is what we are trying to teach all over the world. These people have accepted it and it is not at all difficult in the age of Kali. Simply chant Hare Kṛṣṇa, Hare Kṛṣṇa, Kṛṣṇa Kṛṣṇa, Hare Hare/ Hare Rāma, Hare Rāma, Rāma Rāma, Hare Hare.)
Indian man: In logo ko convince kaise kiya hoga apne? (How did you convince these people?)
Prabhupāda: Convince mane . . . wo ek chiz hota hai, ek murkh hota hai aur ek aparadhi hota hai. Ek murkh hota hai aur ek aparadhi hota hai. To ye log murkh tha aparadhi nahi the aur humara Bharatvarsh me aparadhi hai. Isliye kuch hota nahi. Murkh to hai hi hai sath sath me aparadhi hai. Inko hum log Bharatvarsh me jab kehte the Bhagavan Krishna hai, wo kehte the kyu Bhagavan ek akele Krishna kyu hoge? Ma Devi, ye Shiv Ji hai, wo Brahma Ji hai, wo Durga hai, Ganesh hai sab competition karne ke liye khada kar dete hai. (Convince means . . . the thing is that one person is a fool and another person is an offender. One is a fool and another is an offender. These people were fools, not offenders but our India is full of offenders. Therefore, nothing happens. They are fools as well as offenders. When we tell them in India that the Supreme Lord is Kṛṣṇa, they say why only Kṛṣṇa alone should be God? Mother Devi is there, Lord Shiva is there, there is Lord Brahma, Durga, Ganesh . . . they make everyone lined up for competition.)
Indian man: Lekin sab me to Krishna hai hi? . . . (indistinct) . . . Parabrahma hai . . . (indistinct) . . . anek rup hai. (But isn't Lord Kṛṣṇa present in everyone? . . . (indistinct) . . . He is Parabrahma . . . (indistinct) . . . there are so many forms.)
Prabhupāda: Sab me Krishna hai, dusri bat hai. Nahi, nahi, nahi. Yehi aparadh hai. Yas tu nārāyaṇaṁ devaṁ brahmā-rudrādi-daivatai samatvenaiva vīkṣeta sa pāṣaṇḍī bhaved dhruvam . Jo Bhagavan Narayan, unke sath bade bade . . . dusre ka bat chodh dijiye . . . bade bade devata jaise hote hai Brahma, Rudra unko bhi saman kare wo pakhandi brahman hai. Bhagavan kehte hai jo mattah parataram kincid asti na dhananjaya. Hum se badhkar koi hai nahi aur humse saman bhi hai nahi. Bhagavan ka position hai jo unse koi bada bhi nahi hai unke saman bhi koi hai nahi. Abhi bhi unka saman koi samjha jaye, wo aparadhi hai. Jaise ap hai aur apka naukar hai. Hum yadi keh de naukar ko, " Dekho Ji, tumko aur hum Maharaj ko ek hi samajhte hai." To apka apman hua ki nahi. To aparadh hua. Ap samjhe ke ye bevakuf kaisa hai dekho humara naukar aur humko ek saman bolta hai. Wo pakhandi hai. Bhagavan se aur . . . (indistinct) . . . devata se jo saman samajhta hai, wo pakhandi hai. Isi liye patan ho jata hai, aparadh ho jata hai. Isliye mai kehta hu inka wo aparadh nahi tha . . . (indistinct) . . . aur Bharatvarsh me is aparadh se purna hai. Samjhe na. Wo to . . . ek to Bhagavan se sab devata ko saman mante hai phir apne ko Bhagavan mante hai. Bohot sab pakhandi hai, kehte hai mai Bhagavan hu. Jo ye daridra sab Narayan jo hai, ye jitna garib hai ye sab Bhagavan hai? To Bhagavan ko bada tuccha bana diya idhar. Bhagavan . . . hafta hafta me Bhagavan ke avatar nikal ate hai. Samjhe na. Isliye Bharat ka patan ho gaya. Bhagavan ko ijjat nahi diya. Abhi, pehle nahi hai, abhi ye hua. Inka jo tha, wo to zyada jante nahi. Un hi log jante hai Christian dharma me Bhagavan ek hi hai. Wo Bhagavan Krishna hai, isliye jaldi wo sab samajh gaya. Apko samajh me aya? Unko aparadh nahi tha. Aur humara Bharatvarsh aparadh se purna hai aur unko kehne se bhi wo manenge nahi. Aur ye bade bade sab Swami sab nam se chal rahe hai, jiska jaisa mat sab thik hai. Bhagavan kehte hai mam ekam sharanam vraja. Ekam. Ajkal jo mat hai, nahi ek kyu. Jo bahumat, jaise ye sab mat hai wo sab thik hai. Ye to vipathgami ho jata hai. Isliye Bharat ka ye durdasha hai. Bhakt hai bohot, kaam karne me kuch nahin. Bhagavan ko prapt karne ke liye tapasya chahiye. Nahi, tapasya nahi karenge. Sab kuch khayenge, sab kuch karenge aur meditation karenge. Kya meditation karenge? Isliye Bharat ka itna durdasha hai. Aur inka dekhiye, jaisa shastra me bataya hai, unko maine bata diya aur wo usi ko follow kar rahe hai isliye kam jaldi ho raha hai. Khali same hi hai, jo thik thik follow kar rahe hai . . . yah shastravidhim utsrijya. Shastra vidhi jaisa hai usko chodh karke jo apna man mafik kam karenge, usko siddhi nahi hai Bhagavad-Gita me kehte hai. Na sa siddhim avapnoti na sukham na param gatim. Shastra vidhi jo hai, usko chodh karke jo man mafik kam karenge, na sa siddhim avapnoti, usko siddhi labh nahi hoga. Aisa hi Gita me bat karega. Na sukham. Sukh bhi nahi hoga aur na param gatim. Para gati ka to bat hi nahi hai. Ye sab mushkil hai. To khair, ekas chandra tamohanti. Do char aisa agar shuddha vaishnav ban jaye to tabhi prachar . . . (indistinct) . . . karta hai. Aur hazaro aya shishya, wo kuch kam ka nahi hai. Usse kuch fal nahi hoga. Ekas chandra tamohanti na ca tara . . . to ye prachar ho raha hai. Abhi dekhiye hum log udhar se char lakh rupaya ticket dekar ke idhar aya. Ek admi ka barah hazar rupaya lagta hai. By plane. Plane se ajkal aur koi jahaz me kaun jata hai. To hum log chalis admi yaha hai. To chalis barah hazar kitna hota hai dekhiye. Char lakh assi hazar hota hai. Thoda kum zyada hai ek plane me. Barah hazar dollar hai . . . barah sau dollar. Barah sau dollar ko bank exchange karne se char lakh hota hai. Aur aisa aur jo exchange hai, chalta hai bazar me, us hisab me pray panch lakh ho jayega. To ye jo prachar karne ko aye hai hum, kripa ap sab dekhiye, humara local jo kitab sab . . . (indistinct) . . . to isliye apko jaisa us din nivedan kiya tha, kripaya life member banate hai. Ap bhi to life member banenge, aisa suna tha humne apka. Thik hai.
(It is a different thing that Lord Kṛṣṇa is present in everyone. No, no, no. This is the offense. Yas tu nārāyaṇaṁ devaṁ brahmā-rudrādi-daivatai samatvenaiva vīkṣeta sa pāṣaṇḍī bhaved dhruvam (CC Madhya 18.116). One who compares Lord Nārāyaṇa with big big . . . leave aside the others . . . if someone considers big demigods like Brahmā, Rudra to be equal to Him, he is a hypocrite brāhmaṇa. God says mattaḥ parataraṁ kiñcid asti na dhanañjaya (BG 7.7). "There is no one greater to Me and no one equal to Me." God's position is such that no one is greater than Him and no one is equal to Him. Even then if someone thinks Him to be equal, then he is an offender. Just like you and your servant. If I tell your servant, "Look, I consider you and Maharaj to be the same." Isn't this an insult to you? So this is an offense. You will think what a fool I am for considering you and your servant to be equal. He is a hypocrite. One who thinks God and . . . (indistinct) . . . demigods to be equal is a hypocrite. Therefore, there is degradation, there is offense. So I made this comment that they were not offenders . . . (indistinct) . . . but our India is full of offenders. Did you understand? First of all they equate God with other demigods and then they consider themselves to be god. There are many such hypocrites, they declare themselves to be God. All these poor people are they God? They have made God very insignificant. Every week a new incarnation of God is appearing. Did you understand? Thus, India has become degraded. They did not give any respect to God. This has happened lately but it was not so in the past. But these people they did not know much. They knew from their Christian religion that God is one. That God is Kṛṣṇa, therefore they understood very easily. Did you understand? They did not have any offense. But India is full of offences and they won't agree even if you explain it to them. All these big big Swamis going by name, they think every idea is correct. God says mām ekaṁ śaraṇaṁ vraja (BG 18.66). Ekaṁ. Nowadays the idea is why only one. All opinions are correct. This is a deviation from the right path. Therefore, India is in such a fallen condition now.
There are many so-called devotees but all of them are useless. It requires lot of penance to attain God but they are not ready to do so. They will eat everything, do everything and meditate as well. What meditation will they do? Thus India is in such a fallen condition but look at these people, whatever is there in the scriptures, I conveyed it to them and they are following it exactly so there is rapid progress. The thing is the same but whoever follows it exactly . . . yaḥ śāstra-vidhim utsṛjya (BG 16.23). Those who ignore scriptural regulations and act according to their own whims will not attain perfection according to Bhagavad-gita. Na sa siddhim avāpnoti na sukhaṁ na parāṁ gatim.Those who ignore scriptural regulations and act according to their own whims, na sa siddhim avāpnoti, they will not attain perfection. This is how Gita explains. Na sukhaṁ. There will be no happiness and na parāṁ gatim. Attaining the supreme destination is out of question. All this is very difficult. Anyways, ekaś candras tamo hanti. If two or four pure devotees can be made then preaching . . . (indistinct) . . . is possible. Many thousands of disciples came and went but they are of no use. There will be no result from it. Ekaś candras tamo hanti na ca tara . . . thus preaching is taking place. Now, just see we came from there by spending four lakh rupees to book tickets. It costs twelve thousand rupees for one person. By plane. Leaving airplanes, nobody travels by ship nowadays. So we have forty people here. So just see forty multiplied by twelve thousand rupees. It is four lakhs eighty thousand. Twelve thousand dollars . . . twelve hundred dollars. Twelve hundred dollars become four lakh rupees when exchanged in the bank. By other exchange rates that are prevalent in the market, it is almost five lakh rupees. So we have come here to preach, please consider everything, all our local books . . . (indistinct) . . . so as we requested you that day, we request everyone to become life members. I think I heard that you are also going to be a life member. Okay.)
Indian man: Nahi mere se abhi . . . abhi kya zarurat hai? Maharaj wo pustake bohot uttam hai parantu in logo ke liye uttam hai. Humara to Hindi me hai hi. Bhagavatam . . . Srimad Bhagavatam . . . (indistinct) . . . to hum usko chodh karke English me padhe to bat to ek hi hai. (No, it is not possible for me . . . what is the need right now? Mahārāja, the books are excellent but they are useful for these people. We already have them in Hindi. Bhāgavatam . . . Śrīmad-Bhāgavatam . . . (indistinct) . . . leaving that if we read in English, then the thing is the same.) . . . (indistinct) . . . (to Yamuna) You understand it?
Yamuna: You're talking about the books? They translate them in English?
Indian man: Yes. We have got them all in Hindi. So we can read them. Why bother to read the translation?
Prabhupāda: It is not bothering for reading. It is helping the institution. We have not come to bother you with the books. But we have come to your door for begging something to support this institution.
Indian man: . . . (indistinct)
Prabhupāda: Working that way, we require money. So India me agar nahi de paya . . . (So if people cannot give in India then . . .) . . . how can you expect? Wo log apna Christian dharma prachar karne ke liye karodo rupaya kharch karta hai aur ap log itna bada kam ho raha hai agar forward nahi ata hai to fir kya sympathy hai. (They are spending crores of rupees to spread their Christian religion and if you cannot come forward in this massive effort, then where is your sympathy.) I would have liked that you would have introduced another four members. Because you are influential. So anyway, I . . . at least one member, as you have selected. So you can become.
Indian man: . . . (indistinct)
Prabhupāda: Pehle Maharaja log kitna daan karta tha isliye uska wo question hi nahi tha. Ab daan band kar diya, ab khane ka kya ye sochne padhta hai. Isliye Bhagavad Gita me bola hai yajna dana tapa kriya na tyajyam. Yajna, dan aur tapa ye chodhne nahi chahiye. Tapa to jaisa ye rishi-muni hota hai iske liye tapa aur grihastha ke liye daan aur rāja ke liye yajna. Tabhi ye thik chalega. Rāja yajna chodh deta hai aur grihastha dan chodh deta hai aur ye sadhu-sannyasi chodh dete to kya reh gaya. Isliye tyag ke bhumika me ye char chiz tyag karne chahiye. (Previously kings used to give so much charity, therefore that question did not arise at all. Now, charity has been stopped so they are forced to think about what to eat. Hence, in Bhagavad-gita it is said yajña-dāna-tapaḥ-kriya na tyājyaṁ (BG 18.05). Tapaḥ is for sages, dāna is for householders and yajña is for kings. Only then things will run smoothly. If the king gives up sacrifices, householders give up charity and sages give up renunciation, then what will remain. So in the path of renunciation these four things should be given . . .) (break) (end)