701113 - Letter to Tirthapada written from Bombay
From Vanisource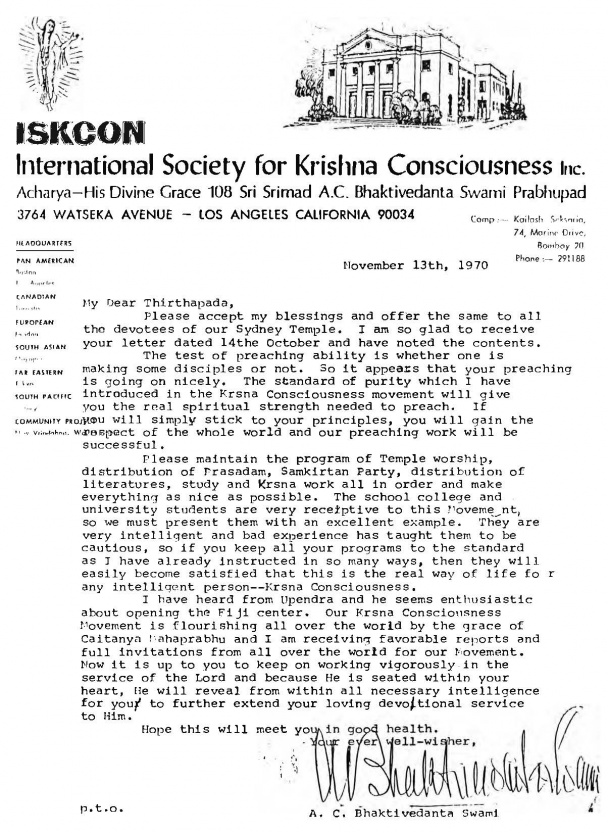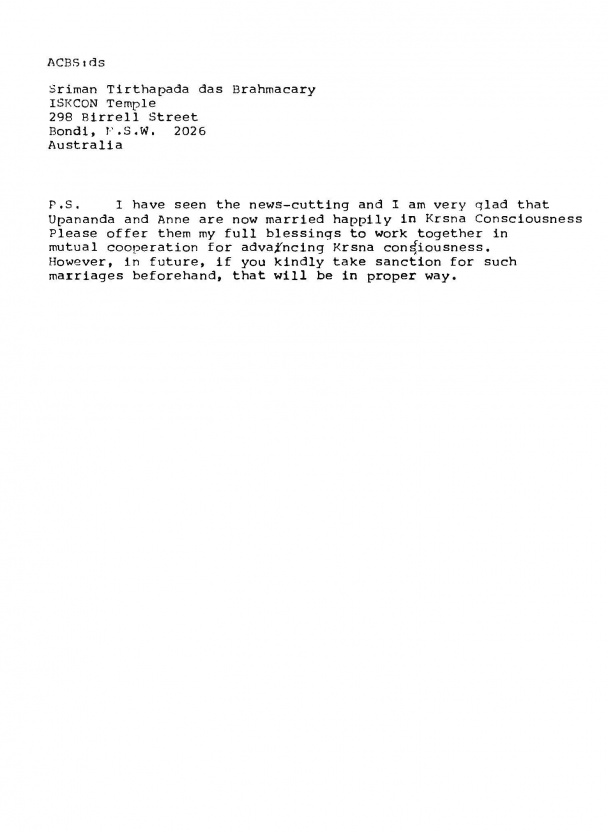 ISKCON
International Society for Krishna Consciousness Inc.
Acharya-His Divine Grace 108 Sri Srimad A.C.Bhaktivedanta Swami Prabhupad
3764 WATSEKA AVENUE - LOS ANGELES CALIFORNIA 90034
CAMP: Kailash Seksaria; 74 Marine Drive; Bombay-20
Phone :- 291186
HEADQUARTERS
PAN AMERICAN
Boston
Los Angeles
CANADIAN
Toronto
EUROPEAN
London
SOUTH ASIAN
Mayapur
FAR EASTERN
Tokyo
SOUTPACIFIC
Sydney
COMMUNITY PROJECT
New Vrindaban, West Virginia
November 13th, 1970

My Dear Thirthapada,
Please accept my blessings and offer the same to all the devotees of our Sydney Temple. I am so glad to receive your letter dated 14th October and have noted the contents.
The test of preaching ability is whether one is making some disciples or not. So it appears that your preaching is going on nicely. The standard of purity which I have introduced in the Krsna Consciousness movement will give you the real spiritual strength needed to preach. If you will simply stick to your principles, you will gain the respect of the whole world and our preaching work will be successful.
Please maintain the program of Temple worship, distribution of Prasadam, Samkirtan Party, distribution of literatures, study and Krsna work all in order and make everything as nice as possible. The school college and university students are very receptive to this Movement, so we must present them with an excellent example. They are very intelligent and bad experience has taught them to be cautious, so if you keep all your programs to the standard as I have already instructed in so many ways, then they will easily become satisfied that this is the real way of life for any intelligent person--Krsna Consciousness.
I have heard from Upendra and he seems enthusiastic about opening the Fiji center. Our Krsna Consciousness Movement is flourishing all over the world by the grace of Caitanya Mahaprabhu and I am receiving favorable reports and full invitations from all over the world for our Movement. Now it is up to you to keep on working vigorously in the service of the Lord and because He is seated within your heart, He will reveal from within all necessary intelligence for you to further extend your loving devotional service to Him.
Hope this will meet you in good health.
Your ever well-wisher,



A.C. Bhaktivedanta Swami
p.t.o.
ACBS:ds
Sriman Tirthapada das Brahmachary
ISKCON Temple
298 Birrell Street
Bondi, M.S.W. 2026
Australia


P.S.       I have seen the news-cutting and I am very glad that Upananda and Anne are now married happily in Krsna Consciousness Please offer them my full blessings to work together in mutual cooperation for advancing Krsna consciousness. However, in future, if you kindly take sanction for such marriages beforehand, that will be in proper way.