701110 - Letter to Hansadutta written from Bombay
From Vanisource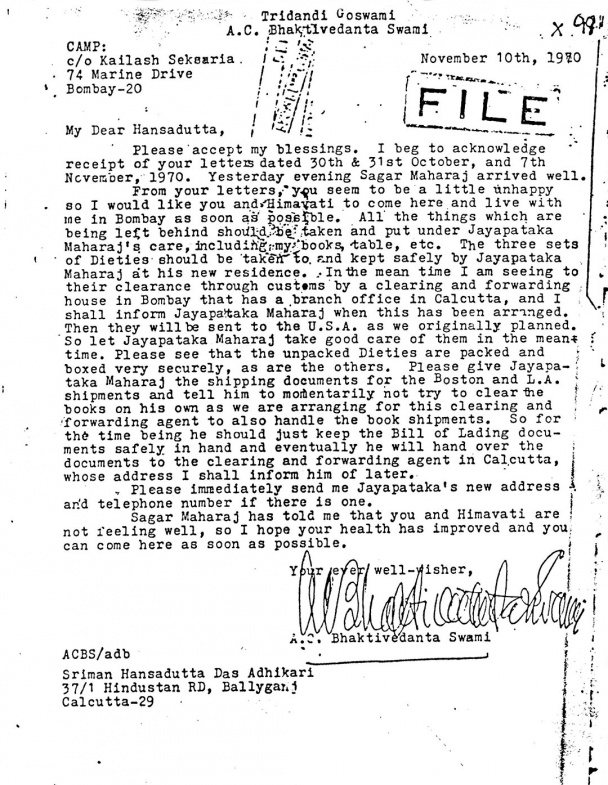 Tridandi Goswami
A.C. Bhaktivedanta Swami
November 10th, 1970
CAMP:
c/o Kailash Seksaria;
74 Marine Drive
Bombay-20

My Dear Hansadutta,
Please accept my blessings. I beg to acknowledge receipt of your letters dated 30th & 31st October, and 7th November, 1970. Yesterday evening Sagar Maharaj arrived well.
From your letters, you seem to be a little unhappy so I would like you and Himavati to come here and live with me in Bombay as soon as possible. All the things which are being left behind should be taken and put under Jayapataka Maharaj's care, including my books, table, etc. The three sets of Deities should be taken to and kept safely by Jayapataka Maharaj at his new residence. In the mean time I am seeing to their clearance through customs by a clearing and forwarding house in Bombay that has a branch office in Calcutta, and I shall inform Jayapataka Maharaj when this has been arranged. Then they will be sent to the U.S.A. as we originally planned. So let Jayapataka Maharaj take good care of them in the mean time. Please see that the unpacked Deities are packed and boxed very securely, as are the others. Please give Jayapataka Maharaj the shipping documents for the Boston and L.A. shipments and tell him to momentarily not try to clear the books on his own as we are arranging for this clearing and forwarding agent to also handle the book shipments. So for the time being he should just keep the Bill of Lading documents safely in hand and eventually he will hand over the documents to the clearing and forwarding agent in Calcutta, whose address I shall inform him of later.
Please immediately send me Jayapataka's new address and telephone number if there is one.
Sagar Maharaj has told me that you and Himavati are not feeling well, so I hope your health has improved and you can come here as soon as possible.
Your ever well-wisher,



A.C. Bhaktivedanta Swami
ACBS/adb
Sriman Hansadutta Das Adhikary
37/1 Hindustan RD, Ballyganj
Calcutta-29