701105 - Letter to Govinda dasi written from Bombay
From Vanisource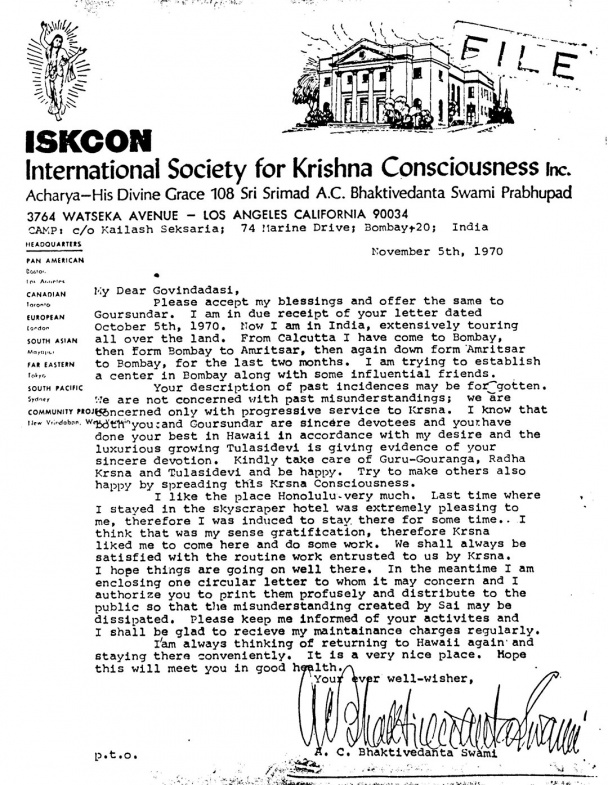 ISKCON
International Society for Krishna Consciousness Inc.
Acharya-His Divine Grace 108 Sri Srimad A.C.Bhaktivedanta Swami Prabhupad
3764 WATSEKA AVENUE - LOS ANGELES CALIFORNIA 90034
CAMP: c/o Kailash Seksaria; 74 Marine Drive; Bombay-20; India
HEADQUARTERS
PAN AMERICAN
Boston
Los Angeles
CANADIAN
Toronto
EUROPEAN
London
SOUTH ASIAN
Mayapur
FAR EASTERN
Tokyo
SOUTPACIFIC
Sydney
COMMUNITY PROJECT
New Vrindaban, West Virginia
November 5th, 1970

My Dear Govindadasi,
Please accept my blessings and offer the same to Gaurasundar. I am in due receipt of your letter dated October 5th, 1970. Now I am in India, extensively touring all over the land. From Calcutta I have come to Bombay, then from Bombay to Amritsar, then again down from Amritsar to Bombay, for the last two months. I am trying to establish a center in Bombay along with some influential friends.
Your description of past incidents may be forgotten. We are not concerned with past misunderstandings; we are concerned only with progressive service to Krsna. I know that both you and Gourasundar are sincere devotees and you have done your best in Hawaii in accordance with my desire and the luxurious growing Tulasi devi is giving evidence of your sincere devotion. Kindly take care of Guru-Gouranga, Radha Krsna and Tulasi devi and be happy. Try to make others also happy by spreading this Krsna Consciousness.
I like the place Honolulu very much. Last time where I stayed in the skyscraper hotel was extremely pleasing to me, therefore I was induced to stay there for some time. I think that was my sense gratification, therefore Krsna liked me to come here and do some work. We shall always be satisfied with the routine work entrusted to us by Krsna. I hope things are going on well there. In the meantime I am enclosing one circular letter to whom it may concern and I authorize you to print them profusely and distribute to the public so that the misunderstanding created by Sai may be dissipated. Please keep me informed of your activities and I shall be glad to receive my maintenance charges regularly.
I am always thinking of returning to Hawaii again and staying there conveniently. It is a very nice place. Hope this will meet you in good health.
Your ever well-wisher,



A.C. Bhaktivedanta Swami
p.t.o.