701104 - Letter to Jagadisa written from Bombay
From Vanisource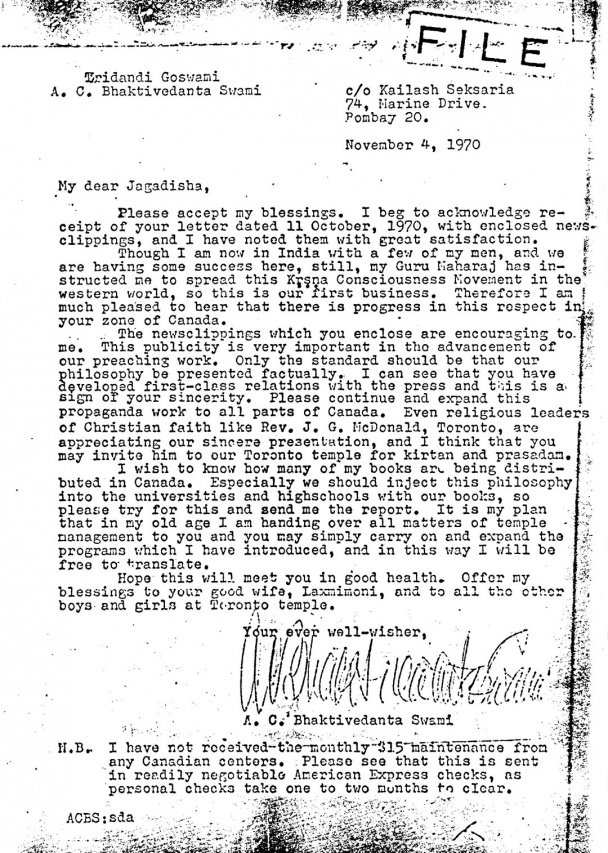 Tridandi Goswami
A.C. Bhaktivedanta Swami
c/o Kailash Seksaria;
74 Marine Drive
Bombay-20
November 4, 1970


My Dear Jagadisha,
Please accept my blessings. I beg to acknowledge receipt of your letter dated 11 October, 1970, with enclosed news clippings, and I have noted them with great satisfaction.
Though I am now in India with a few of my men, and we are having some success here, still, my Guru Maharaj has instructed me to spread this Krsna Consciousness Movement in the western world, so this is our first business. Therefore I am much pleased to hear that there is progress in this respect in your zone of Canada.
The news clippings which you enclose are encouraging to me. This publicity is very important in the advancement of our preaching work. Only the standard should be that our philosophy be presented factually. I can see that you have developed first-class relations with the press and this is a sign of your sincerity. Please continue and expand this propaganda work to all parts of Canada. Even religious leaders of Christian faith like Rev. J. G. McDonald, Toronto, are appreciating our sincere presentation, and I think that you may invite him to our Toronto temple for kirtan and prasadam.
I wish to know how many of my books are being distributed in Canada. Especially we should inject this philosophy into the universities and high schools with our books, so please try for this and send me the report. It is my plan that in my old age I am handing over all matters of temple management to you and you may simply carry on and expand the programs which I have introduced, and in this way I will be free to translate.
Hope this will meet you in good health. Offer my blessings to your good wife, Laksmimoni, and to all the other boys and girls at Toronto temple.
Your ever well-wisher,



A.C. Bhaktivedanta Swami
N.B. I have not received the monthly $15 maintenance from any Canadian centers. Please see that this is sent in readily negotiable American Express checks, as personal checks take one to two months to clear.
ACBS:sda