701103 - Letter to Sagar Maharaja written from Bombay
From Vanisource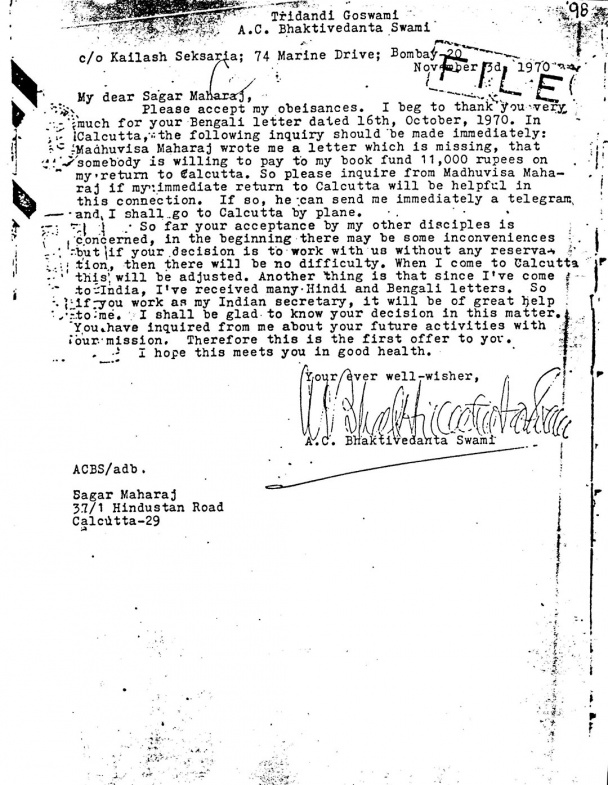 Tridandi Goswami
A.C. Bhaktivedanta Swami
c/o Kailash Seksaria;74 Marine Drive; Bombay-20
November 3rd, 1970

My dear Sagar Maharaj,
Please accept my obeisances. I beg to thank you very much for your Bengali letter dated 16th, October, 1970. In Calcutta, the following inquiry should be made immediately: Madhudvisa Maharaj wrote me a letter which is missing, that somebody is willing to pay to my book fund 11,000 rupees on my return to Calcutta. So please inquire from Madhudvisa Maharaj if my immediate return to Calcutta will be helpful in this connection. If so, he can send me immediately a telegram and I shall go to Calcutta by plane.
So far your acceptance by my other disciples is concerned, in the beginning there may be some inconveniences but if your decision is to work with us without any reservation, then there will be no difficulty. When I come to Calcutta this will be adjusted. Another thing is that since I've come to India, I've received many Hindi and Bengali letters. So if you work as my Indian secretary, it will be of great help to me. I shall be glad to know your decision in this matter. You have inquired from me about your future activities with our mission. Therefore this is the first offer to you.
I hope this meets you in good health.
Your ever well-wisher,



A.C. Bhaktivedanta Swami

ACBS:adb
Sagar Maharaj
37/1 Hindustan Road
Calcutta-29