700929 - Letter to Central Bank of India written from Calcutta
From Vanisource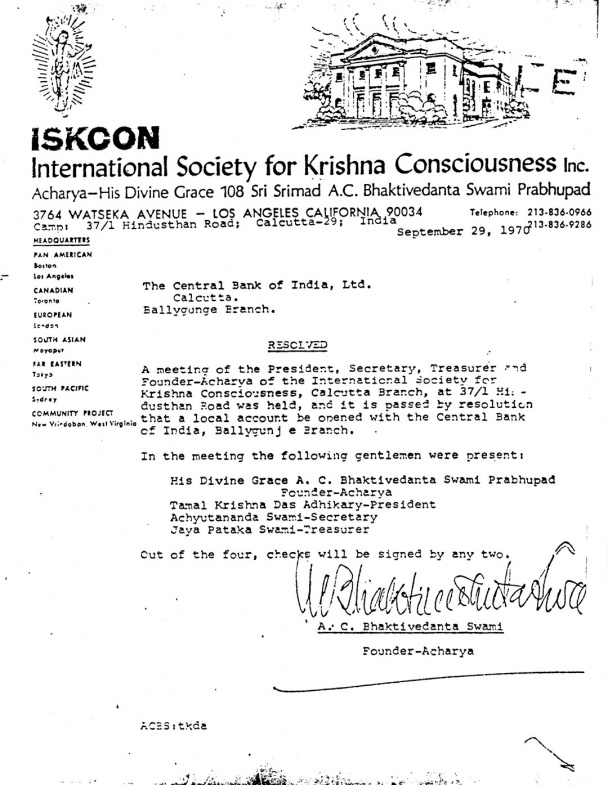 ISKCON
International Society For Krishna Consciousness Inc.
Acharya-His Divine Grace 108 Sri Srimad A.C.Bhaktivedanta Swami Prabhupad
3764 WATSEKA AVENUE - LOS ANGELES, CALIFORNIA 90034
Camp: 37/1 Hindustan Road, Calcutta; India
Telephone:  213-836-0966
                  213-836-9286 HEADQUARTERS
PAN AMERICAN
Boston
Los Angeles
CANADIAN
Toronto
EUROPEAN
London
SOUTH ASIAN
Mayapur
FAR EASTERN
Tokyo
SOUTPACIFIC
Sydney
COMMUNITY PROJECT
New Vrindaban, West Virginia
September 29, 1970

The Central Bank of India Ltd.
Calcutta.
Ballygunge Branch.

RESOLVED
A meeting of the President, Secretary, Treasurer and Founder-Acarya of the International Society for Krishna Consciousness, Calcutta Branch, at 37/1 Hindusthan Road was held, and it is passed by resolution that a local account be opened with the Central Bank of India, Ballygunje Branch.
In the meeting the following gentlemen were present:
His Divine Grace A.C. Bhaktivedanta Swami Prabhupad Founder-Acarya
Tamala Krishna Das Adhikary-President
Achyutananda Swami-Secretary
Jaya Pataka Swami-Treasurer
Out of the four, checks will be signed by any two.



A.C. Bhaktivedanta Swami
Founder-Acarya
ACBS:tkda