700928 - Letter to Damodara written from Calcutta
From Vanisource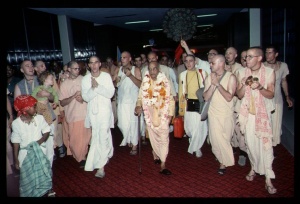 September 28, 1970

My Dear Damodara,
Please accept my blessings. I beg to acknowledge receipt of your encouraging letter dated Sept. 19th, 1970. I am so glad to know that things are progressing nicely with your center. That should be our constant care—to maintain what we have already established and continue to improve the standard as far as possible in the loving service of Lord Krsna.
Your program seems very nice. Your are now six strong devotees, so work together very diligently for the spreading of Krsna Consciousness Movement. Your report of present improvements in the temple and Sankirtana Party and preaching trips to the university campuses is very nice. You are a very intelligent devotee of Lord Krsna and if you turn over your intelligence to Him, He will bestow upon you more and more intelligence how to serve the Spiritual Master and Krsna in full Krsna Consciousness. That is the perfection of your life. So please use your good intelligence for serving Krsna only and do not be misled to divert your attention elsewhere.
Yes, here in Calcutta things have been very much favorable for spreading our Movement ever since arriving here. We have got now two centers in Calcutta and things are very promising.
Please offer my blessings to your good wife, Mrganetra, and all the other devotees, boys and girls, in our Washington temple.
Hope this will meet you in good health.
Your ever well-wisher,
A.C. Bhaktivedanta Swami