700701 - Letter to Shama Dasi written from Los Angeles
From Vanisource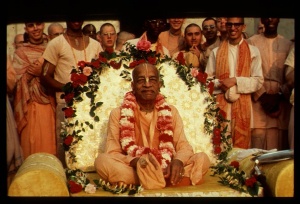 July 01, 1970

Srimati Shama Devi Dasi
c/o New Vrindaban
R.D. 3, Moundsville, W. Va. 26041
3764 Watseka Avenue
Los Angeles, Cal. 90034

My Dear Shama Dasi,
Please accept my blessings. I beg to thank you very much for your letter and nice presentations. I was thinking of you since a long time because I have not received any letter from you. I am very pleased with your nice presentation and I have seen the pictures of your son, Samba, also. He is looking very jolly. So raise him nicely in Krishna Consciousness.
Hayagriva was here and we had some very nice talks. I am glad that you are managing New Vrindaban, so do it nicely. Be happy in Krsna Consciousness and be the ideal grihasta. Better to be satisfied with one nice Krishna Conscious child and the rest of your time being saved for making advancement in Krishna Consciousness. You will be glad to know that by the middle of this month I will be going to N.Y. and shortly thereafter surely I will be coming to New Vrindaban, as I have told Hayagriva. I have received one letter of invitation from Kirtanananda Maharaj also. I am always aspiring to eat your nice chopaties, so when I go there, you will have to give me many.
Please offer my blessings to the others. Hoping this will meet you in good health.
Your ever well-wisher,
A.C. Bhaktivedanta Swami
ACBS/adb