700630 - Letter to Brahmananda written from Los Angeles
From Vanisource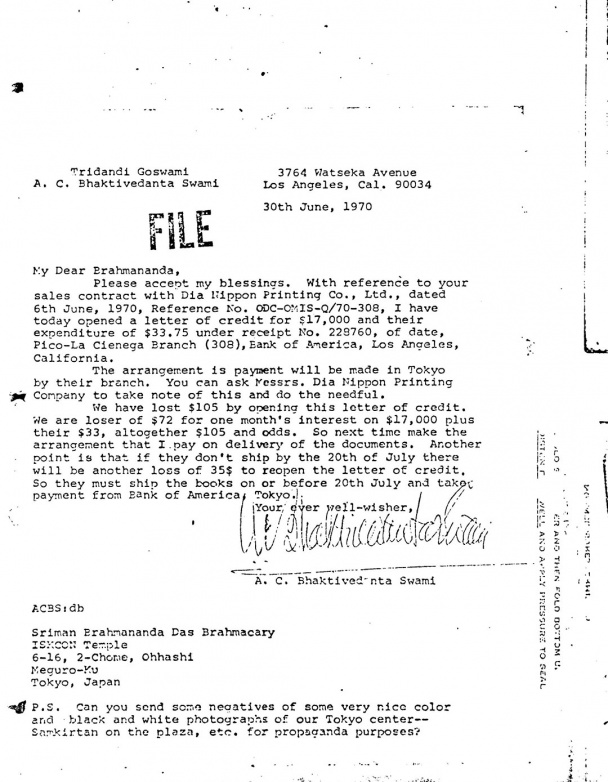 Tridandi Goswami
A.C. Bhaktivedanta Swami
3764 Watseka Avenue
Los Angeles, Cal. 90034
30th June, 1970


My Dear Brahmananda,
Please accept my blessings. With reference to your sales contract with Dia Nippon Printing Co., Ltd., dated 6th June, 1970, Reference No. ODC-OMIS-Q/70-308, I have today opened a letter of credit for $17,000 and their expenditure of $33.75 under receipt No. 228760, of date, Pico-La Cienega Branch (308), Bank of America, Los Angeles, California.
The arrangement is payment will be made in Tokyo by their branch. You can ask Messrs. Dia Nippon Printing Company to take note of this and do the needful.
We have lost $105 by opening this letter of credit. We are loser of $72 for one month's interest on $17,000 plus their $33, altogether $105 and odds. So next time make the arrangement that I pay on delivery of the documents. Another point is that if they don't ship by the 20th of July there will be another loss of $35 to reopen the letter of credit. So they must ship the books on or before 20th July and take payment from Bank of America, Tokyo.
Your ever well-wisher,



A.C. Bhaktivedanta Swami
ACBS:db
Sriman Brahmananda Das Brahmachary
ISKCON Temple
6-16, 2 Chome, Ohhashi
Meguro-Ku
Tokyo, Japan
P.S. Can you send some negatives of some very nice color and black and white photographs of our Tokyo center--Samkirtan on the plaza, etc. for propaganda purposes?