700627 - Letter to Hayagriva written from Los Angeles
From Vanisource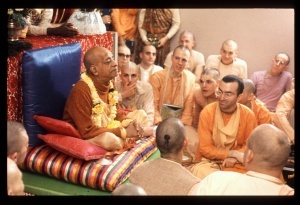 June 27, 1970

Sriman Hayagriva Das Adhikary
New Vrndavan
RD 3, Moundsville, WV. 26041
3764 Watseka Ave.
Los Angeles, Calif. 90034

My Dear Hayagriva,
Please accept my blessings. I beg to acknowledge receipt of your letter dated 23rd June, 1970, and noted the contents. I have received the matter for publication in English and Hindi in Indian newspapers, and necessary actions are being taken. I am very glad to learn that the editorial work of Jai Advaita and Satsvarupa in Boston is now becoming dependable.
I understand there is some trouble with the girl who has gone from here, and I do not know how I can advise you in this matter. I think in the near future both of us should be freed from these internal management activities. I can understand that you are little afraid of these legal implications because the land in New Vrndavan is in your name. The best thing will be therefore to transfer the l and in the Society's name as soon as possible and you also be completely free from internal management. Dedicate y our life for reading and writing in this Movement of Krsna Consciousness, and when I go to India you must have to go with me.
In the meantime, please settle up things in an organized manner so that in the future we may not be in trouble. Anyway, I am glad that are coming during Rathayatra festival and at that time we will all together discuss on these important businesses and I think that will be very nice.
If Kirtanananda Maharaj is not very busy he may also come to Rathayatra festival.
Hope this will meet you in good health.
Your ever well-wisher,
A.C. Bhaktivedanta Swami
ACBS: db