Radharani

Krishna

Caitanya

God

God's Holy Names

Krishna Consciousness Movement

Who Is Srila Prabhupada

his Timeline

Months in his Life

Training his Disciples

Questions

Bhagavad-gita

Devotees of God

Devotional Service to God

Discipleship

Guru / Acharya

Essential Subjects

Nectar Drops

What's in Vanipedia now

Glorious Personalities

Yoga

Collaborate with us to invoke and fully manifest Srila Prabhupada's Vani-presence.
---
700526 - Letter to Bhagavan written from Los Angeles
From Vanisource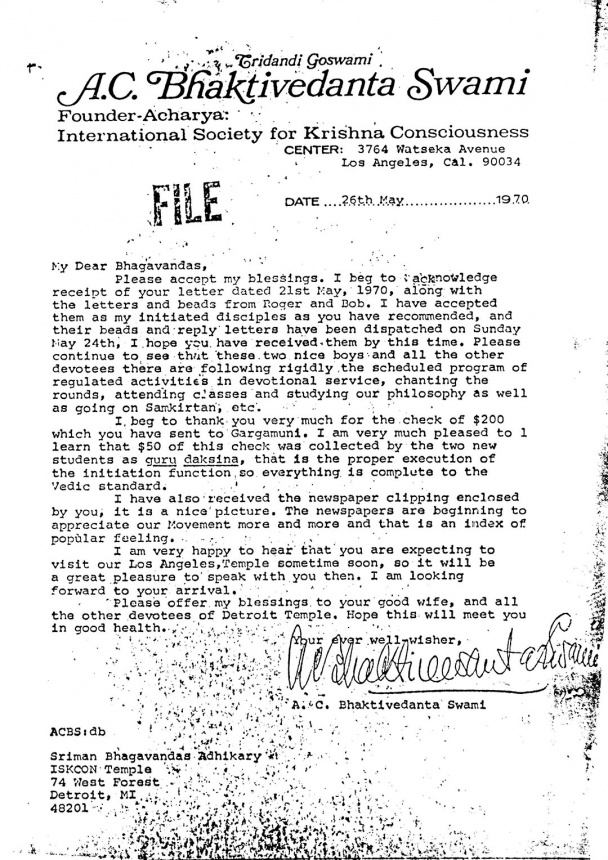 Tridandi Goswami
A.C. BHAKTIVEDANTA SWAMI
Founder-Acharya:
International Society For Krishna Consciousness
3764 Watseka Avenue
Los Angeles, Cal. 90034
May 26th 1970
My Dear Bhagavandas,
Please accept my blessings. I beg to acknowledge receipt of your letter dated 21st May, 1970, along with the letters and beads from Roger and Bob. I have accepted them as my initiated disciples as you have recommended, and their beads and reply letters have been dispatched on Sunday May 24th, I hope you have received them by this time. Please continue to see that these two nice boys and all the other devotees there are following rigidly the scheduled program of regulated activities in devotional service, chanting the rounds, attending classes and studying our philosophy as well as going on Sankirtan, etc.
I beg to thank you very much for the check of $200 which you have sent to Gargamuni. I am very much pleased to learn that $50 of this check was collected by the two new students as guru daksina, that is the proper execution of the initiation function so everything is complete to the Vedic standard.
I have also received the newspaper clipping enclosed by you, it is a nice picture. The newspapers are beginning to appreciate our Movement more and more and that is an index of popular feeling.
I am very happy to hear that you are expecting to visit our Los Angeles Temple sometime soon, so it will be a great pleasure to speak with you then. I am looking forward to your arrival.
Please offer my blessings to your god wife, and all the other devotees of Detroit Temple. Hope this will meet you in good health.
Your ever well-wisher,
[signed]
A.C. Bhaktivedanta Swami
ACBS:db
Sriman Bhagavandas Adhikary
ISKCON Temple
74 West Forest
Detroit, MI
48201