Radharani

Krishna

Caitanya

God

God's Holy Names

Krishna Consciousness Movement

Who Is Srila Prabhupada

his Timeline

Months in his Life

Training his Disciples

Questions

Bhagavad-gita

Devotees of God

Devotional Service to God

Discipleship

Guru / Acharya

Essential Subjects

Nectar Drops

What's in Vanipedia now

Glorious Personalities

Yoga

Collaborate with us to invoke and fully manifest Srila Prabhupada's Vani-presence.
---
700509 - Letter to Gurudasa written from Los Angeles
From Vanisource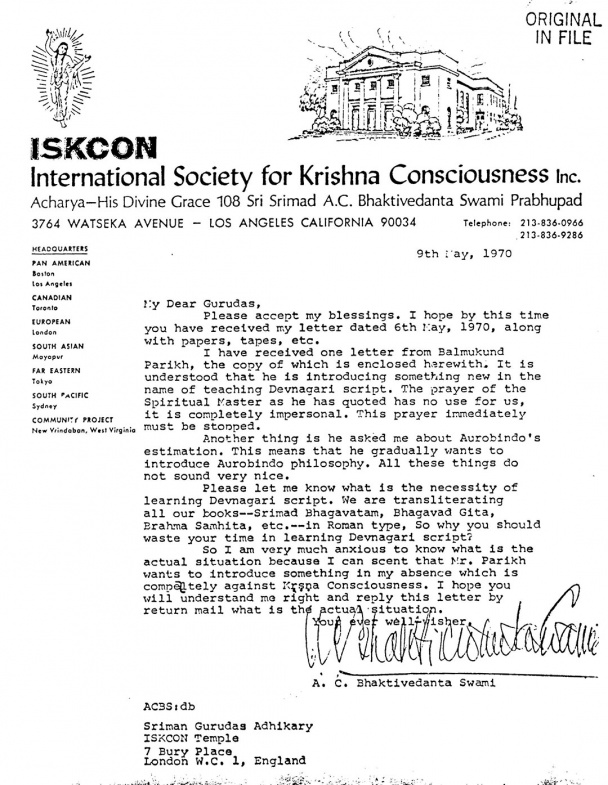 ISKCON
International Society For Krishna Consciousness Inc.
Acharya-His Divine Grace 108 Sri Srimad A.C.Bhaktivedanta Swami Prabhupad
3764 Watseka Avenue
Los Angeles, Cal. 90034
Headquarters
PAN AMERICAN
Boston
Los Angeles
CANADIAN
Toronto
EUROPEAN
London
SOUTH ASIAN
Mayapur
FAR EASTERN
Tokyo
SOUTPACIFIC
Sydney
COMMUNITY PROJECT
New Vrindaban, West Virginia
May 9th 1970
My Dear Gurudas,
Please accept my blessings. I hope by this time you have received my letter dated 6th May, 1970, along with papers, tapes, etc.
I have received one letter from Balmukund Parikh, the copy of which is enclosed herewith. It is understood that he is introducing something new in the name of teaching Devanagari script. The prayer of the Spiritual Master as he has quoted has no use for us, it is completely impersonal. This prayer immediately must be stopped.
Another thing is he asked me about Aurobindo's estimation. This means that he gradually wants to introduce Aurobindo philosophy. All these things do not sound very nice.
Please let me know what is the necessity of learning Devanagari script. We are transliterating all our books—Srimad Bhagavatam, Bhagavad Gita, Brahma Samhita, etc.—in Roman type, So why you should waste your time in learning Devanagari script?
So I am very much anxious to know what is the actual situation because I can scent that Mr. Parikh wants to introduce something in my absence which is completely against Krsna Consciousness. I hope you will understand me right and reply this letter by return mail what is the actual situation.
Your ever well-wisher,
[signed]
A.C. Bhaktivedanta Swami
ACBS:db
Srman Gurudas Adhikary
ISKCON Temple
7 Bury Place
London W.C.. 1, England