700414 - Letter to Tamala Krishna written from Los Angeles
From Vanisource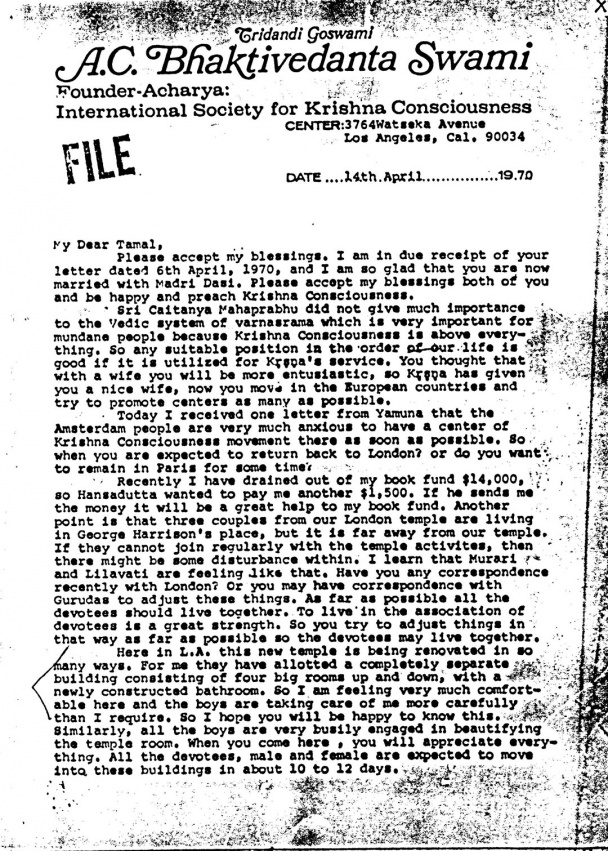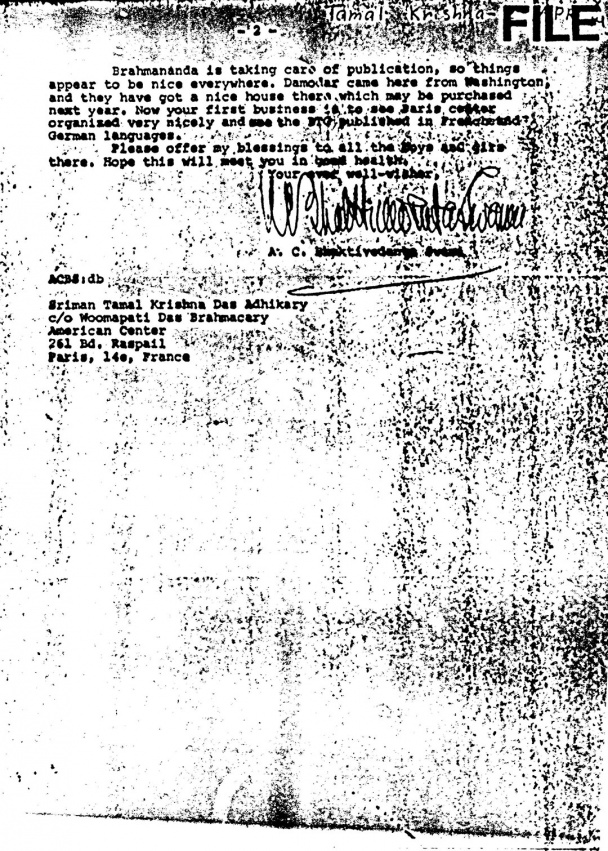 Tridandi Goswami
A.C. Bhaktivedanta Swami
Founder-Acharya:
International Society for Krishna Consciousness
CENTER:3764 Watseka Avenue
             Los Angeles, Cal. 90034

DATE ....14th.April...............19.70


My Dear Tamal,
Please accept my blessings. I am in due receipt of your letter dated 6th April, 1970, and I am so glad that you are now married with Madri Dasi. Please accept my blessings both of you and be happy and preach Krishna Consciousness.
Sri Caitanya Mahaprabhu did not give much importance to the Vedic system of varnasrama which is very important for mundane people because Krishna Consciousness is above everything. So any suitable position in the order of our life is good if it is utilized for Krsna's service. You thought that with a wife you will be more enthusiastic, so Krsna has given you a nice wife, now you move in the European countries and try to promote centers as many as possible.
Today I received one letter from Yamuna that the Amsterdam people are very much anxious to have a center of Krishna Consciousness movement there as soon as possible. So when you are expected to return back to London? or do you want to remain in Paris for some time?
Recently I have drained out of my book fund $14,000, so Hansadduta wanted to pay me another $1,500. If he sends me the money it will be a great help to my book fund. Another point is that three couples from our London temple are living in George Harrison's place, but is far away from our temple. If they cannot join regularly with the temple activities, then there might be some disturbance within. I learn that Murari and Lilavati are feeling like that. Have you any correspondence recently with London? Or you may have correspondence with Gurudas to adjust these things. As far as possible all the devotees should live together. To live in the association of devotees is a great strength. So you try to adjust things in that way as far as possible so the devotees may live together.
Here in L.A. this new temple is being renovated in so many ways. For me they have allotted a completely separate building consisting of four big rooms up and down, with a newly constructed bathroom. So I am feeling very much comfortable here and the boys are taking care of me more carefully than I require. So I hope you will be happy to know this. Similarly, all the boys are very busily engaged in beautifying the temple room. When you come here, you will appreciate everything. All the devotees, male and female are expected to move into these buildings in about 10 to 12 days.

Tamal Krishna [handwritten]

Brahmananda is taking care of publication, so things appear to be nice everywhere. Damodar came here from Washington, and they have got a nice house there which may be purchased next year. Now your first business is to see Paris center organized very nicely and see the BTG published in French and German languages.
Please offer my blessings to all the boys and girls there. Hope this will meet you in good health.
Your ever well-wisher,


A. C. Bhaktivedanta Swami
ACBS:db
Sriman Tamal Krishna Das Adhikary
c/o Woomapati Das Brahmacary
American Center
261 Bd. Raspeil
Paris, 14e, France