Radharani

Krishna

Caitanya

God

God's Holy Names

Krishna Consciousness Movement

Who Is Srila Prabhupada

his Timeline

Months in his Life

Training his Disciples

Questions

Bhagavad-gita

Devotees of God

Devotional Service to God

Discipleship

Guru / Acharya

Essential Subjects

Nectar Drops

What's in Vanipedia now

Glorious Personalities

Yoga

Collaborate with us to invoke and fully manifest Srila Prabhupada's Vani-presence.
---
700217 - Letter to Krishna Devi written from Los Angeles
From Vanisource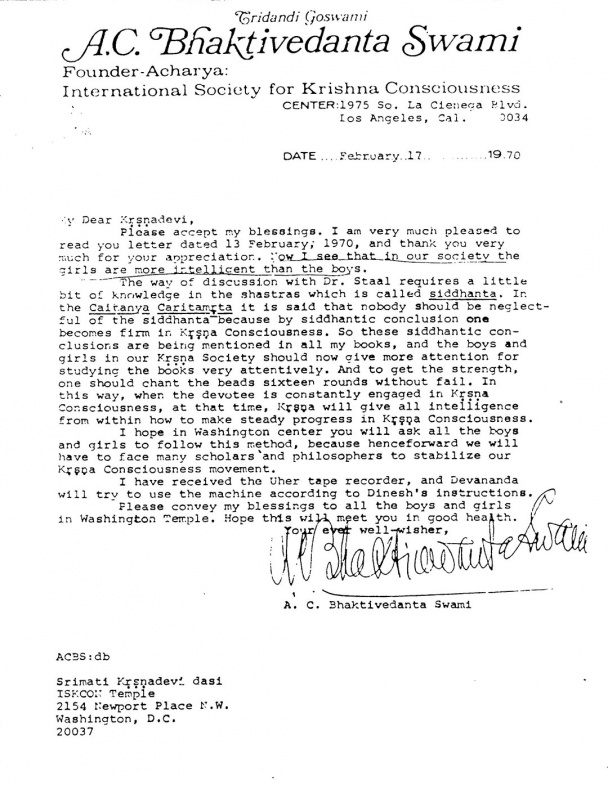 Tridandi Goswami
A.C. BHAKTIVEDANTA SWAMI
Founder-Acharya:
International Society For Krishna Consciousness Inc.
1975 So La Cienega Blvd.
Los Angeles, Cal. 90034
February 17, 1970

My Dear Krsnadevi,
Please accept my blessings. I am very much pleased to read your letter dated 13 February, 1970, and thank you very much for your appreciation. Now I see that in our society the girls are more intelligent than the boys.
The way of discussion with Dr. Staal requires a little bit of knowledge in the sastras which is called siddhanta. In the Chaitanya Caritamrta it is said that nobody should be neglectful of the siddhanta because by siddhantic conclusion one becomes firm in Krsna Consciousness. So these siddhantic conclusions are being mentioned in all my books, and the boys and girls in our Krsna Society should now give more attention for studying the books very attentively. And to get the strength, one should chant the beads sixteen rounds without fail. In this way, when the devotee is constantly engaged in Krsna Consciousness, at that time, Krsna will give all intelligence from within how to make steady progress in Krsna Consciousness.
I hope in Washington center you will ask all the boys and girls to follow this method, because henceforward we will have to face many scholars and philosophers to stabilize our Krsna Consciousness movement.
I have received the Uher tape recorder, and Devananda will try to use the machine according to Dinesh's instructions.
Please convey my blessings to all the boys and girls in Washington Temple. Hope this will meet you in good health.
Your ever well-wisher,
[signed]
A.C. Bhaktivedanta Swami
ACBS:db