691209 - Letter to Govinda dasi written from London
From Vanisource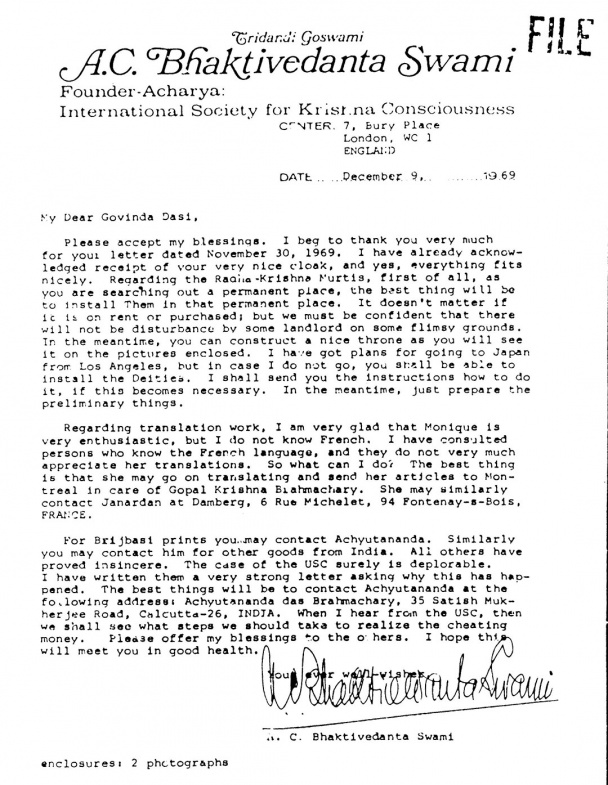 Tridandi Goswami
A.C. Bhaktivedanta Swami
Founder-Acharya:
International Society for Krishna Consciousness
CENTER: 7, Bury Place
              London, WC 1
              ENGLAND
DATE .....December...9,............1969


My Dear Govinda Dasi,
Please accept my blessings. I beg to thank you very much for your letter dated November 30, 1969. I have already acknowledged receipt of your very nice cloak, and yes, everything fits nicely. Regarding the Radha-Krishna Murtis, first of all, as you are searching out a permanent place, the best thing will be to install Them in that permanent place. It doesn't matter if it is on rent or purchased; but we must be confident that there will not be disturbance by some landlord on some flimsy grounds. In the meantime, you can construct a nice throne as you will see it on the pictures enclosed. I have got plans for going to Japan from Los Angeles, but in case I do not go, you shall be able to install the Deities. I shall send you the instructions how to do it, if this becomes necessary. In the meantime, just prepare the preliminary things.
Regarding translation work, I am very glad that Monique is very enthusiastic, but I do not know French. I have consulted persons who know the French language, and they do not very much appreciate her translations. So what can I do? The best thing is that she may go on translating and send her articles to Montreal in care of Gopala Krishna Brahmachary. She may similarly contact Janardan at Damberg, 6 Rue Michelet, 94 Fontenay-s-Bois, FRANCE.
For Brijbasi prints you may contact Achyutananda. Similarly you may contact him for other goods from India. All others have proved insincere. The case of the USC surely is deplorable. I have written them a very strong letter asking why this has happened. The best things will be to contact Achyutananda at the following address: Achyutananda das Brahmachary, 35 Satish Mukherjee Road, Calcutta-26, INDIA. When I hear from the USC, then we shall see what steps we should take to realize the cheating money. Please offer my blessings to the others. I hope this will meet you in good health.
Your ever well-wisher,



A.C. Bhaktivedanta Swami

enclosures: 2 photographs