691126 - Letter to Gopala Krishna written from London
From Vanisource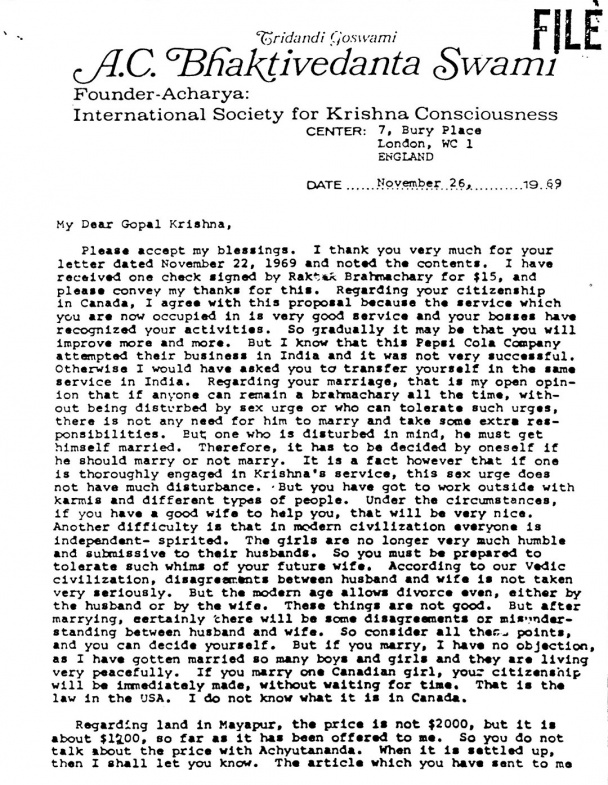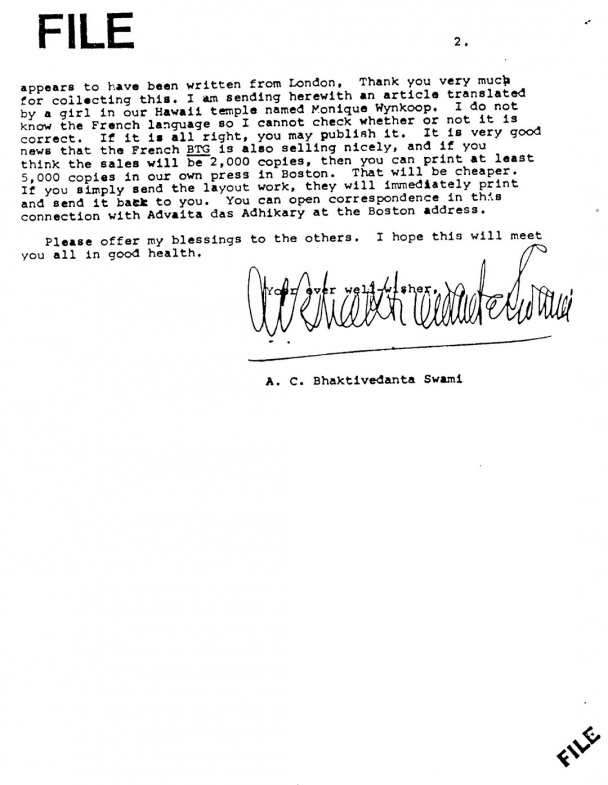 Tridandi Goswami
A.C. Bhaktivedanta Swami
Founder-Acharya:
International Society for Krishna Consciousness
CENTER: 7, Bury Place
              London, WC 1
              ENGLAND
DATE ......November..26,...........19.69


My Dear Gopal Krishna,
Please accept my blessings. I thank you very much for your letter dated November 22, 1969 and noted the contents. I have received one check signed by Raktak Brahmachary for $15, and please convey my thanks for this. Regarding your citizenship in Canada, I agree with this proposal because the service which you are now occupied in is very good service and your bosses have recognized your activities. So gradually it may be that you will improve more and more. But I know that this Pepsi Cola Company attempted their business in India and it was not very successful. Otherwise I would have asked you to transfer yourself in the same service in India. Regarding your marriage, that is my open opinion that if anyone can remain a brahmachary all the time, without being disturbed by sex urge or who can tolerate such urges, there is not any need for him to marry and take some extra responsibilities. But one who is disturbed in mind, he must get himself married. Therefore, it has to be decided by oneself if he should marry or not marry. It is a fact however that if one is thoroughly engaged in Krishna's service, this sex urge does not have much disturbance. But you have got to work outside with karmis and different types of people. Under the circumstances, if you have a good wife to help you, that will be very nice. Another difficulty is that in modern civilization everyone is independent-spirited. The girls are no longer very much humble and submissive to their husbands. So you must be prepared to tolerate such whims of your future wife. According to our Vedic civilization, disagreements between husband and wife is not taken very seriously. But the modern age allows divorce even, either by the husband or by the wife. These things are not good. But after marrying, certainly there will be some disagreements or misunderstanding between husband and wife. So consider all these points, and you can decide yourself. But if you marry, I have no objection, as I have gotten married so many boys and girls and they are living peacefully. If you marry one Canadian girl, your citizenship will be immediately made, without waiting for time. That is the law in the USA. I do not know what it is in Canada.
Regarding land in Mayapur, the price is not $2000, but it is about $1200, so far as it has been offered to me. So you do not talk about the price with Achyutananda. When it is settled up, then I shall let you know. The article which you have sent to me appears to have been written from London, Thank you very much for collecting this. I am sending herewith an article translated by a girl in our Hawaii temple named Monique Wynkoop. I do not know the French language so I cannot check whether or not it is correct. If it is all right, you may publish it. It is very good news that the French BTG is also selling nicely, and if you think the sales will be 2,000 copies, then you can print at least 5,000 copies in our own press in Boston. That will be cheaper. If you simply send the layout work, they will immediately print and send it back to you. You can open correspondence in this connection with Advaita das Adhikary at the Boston address.
Please offer my blessings to the others. I hope this will meet you all in good health.

A.C. Bhaktivedanta Swami