691125 - Letter to Brahmananda written from London
From Vanisource
ģ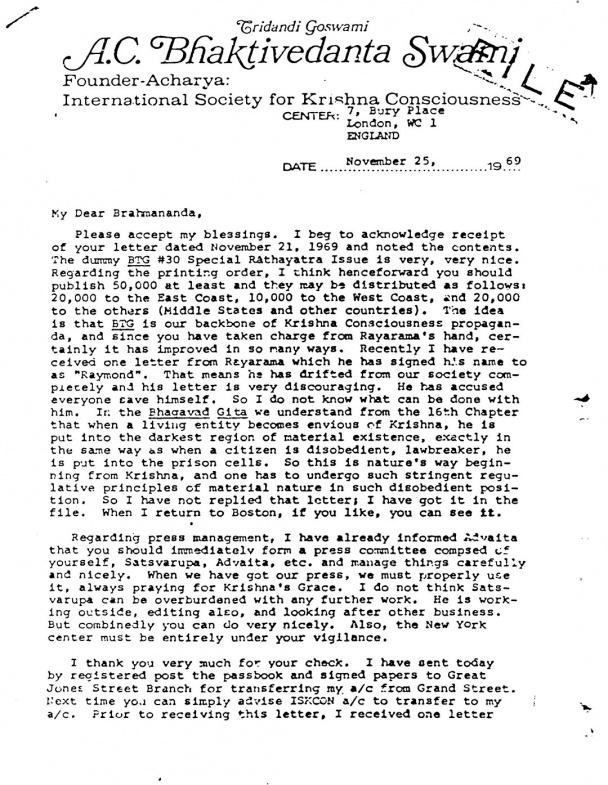 Tridandi Goswami
A.C. Bhaktivedanta Swami
Founder-Acharya:
International Society for Krishna Consciousness
CENTER: 7, Bury Place
              London, WC 1
              ENGLAND
DATE ......November..25,...........19.69


My Dear Brahmananda,
Please accept my blessings. I beg to acknowledge receipt of your letter dated November 21, 1969 and noted the contents. The dummy BTG #30 Special Rathayatra Issue is very, very nice. Regarding the printing order, I think henceforward you should publish 50,000 at least and they may be distributed as follows: 20,000 to the East Coast, 10,000 to the West Coast, and 20,000 to the others (Middle States and other countries). The idea is that BTG is our backbone of Krishna Consciousness propaganda, and since you have taken charge from Rayarama's hand, certainly it has improved in so many ways. Recently I have received one letter from Rayarama which he has signed his name to as "Raymond". That means he has drifted from our society completely and his letter is very discouraging. He has accused everyone save himself. So I do not know what can be done with him. In the Bhagavad Gita we understand from the 16th Chapter that when a living entity becomes envious of Krishna, he is put into the darkest region of material existence, exactly in the same way as when a citizen is disobedient, lawbreaker, he is put into the prison cells. So this is nature's way beginning from Krishna, and one has to undergo such stringent regulative principles of material nature in such disobedient position. So I have not replied that letter; I have got it in the file. When I return to Boston, if you like, you can see it.
Regarding press management, I have already informed Advaita that you should immediately form a press committee. composed of yourself, Satsvarupa, Advaita, etc. and manage things carefully and nicely. When we have got our press, we must properly use it, always praying for Krishna's Grace. I do not think Satsvarupa can be overburdened with any further work. He is working outside, editing also, and looking after other business. But combinedly you can do very nicely. Also, the New York center must be entirely under your vigilance.
I thank you very much for your check. I have sent today by registered post the passbook and signed papers to Great Jones Street Branch for transferring my a/c from Grand Street. Next time you can simply advise ISKCON a/c to transfer to my a/c. Prior to receiving this letter, I received one letter
[PAGE MISSING]