691124 - Letter to Nara-narayana written from London
From Vanisource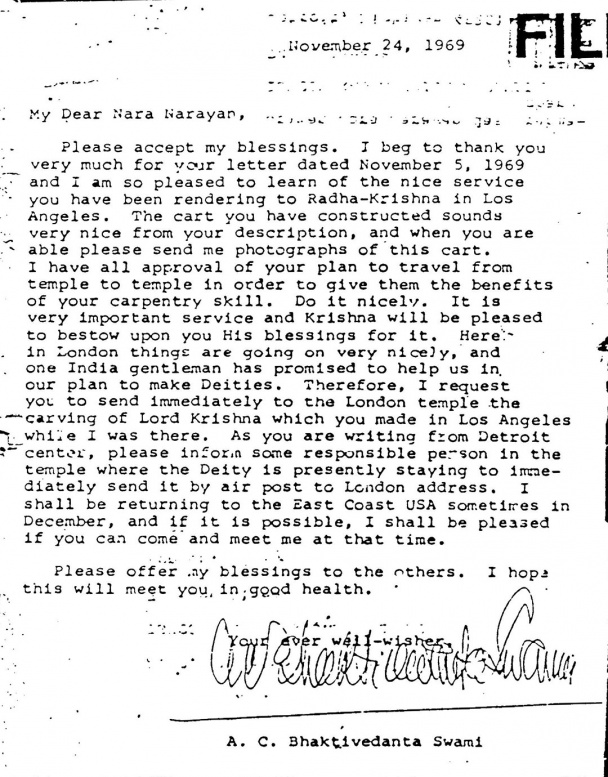 November 24, 1969


My Dear Nara Narayan,
Please accept my blessings. I beg to thank you very much for your letter dated November 5, 1969 and I am so pleased to learn of the nice service you have been rendering to Radha-Krishna in Los Angeles. The cart you have constructed sounds very nice from your description, and when you are able please send me photographs of this cart. I have all approval of your plan to travel from temple to temple in order to give them the benefits of your carpentry skill. Do it nicely. It is very important service and Krishna will be pleased to bestow upon you His blessings for it. Here in London things are going on very nicely, and one India gentleman has promised to help us in our plan to make Deities. Therefore, I request you to send immediately to the London temple the carving of Lord Krishna which you made in Los Angeles while I was there. As you are writing from Detroit center, please inform some responsible person in the temple where the Deity is presently staying to immediately send it by air post to London address. I shall be returning to the East Coast USA sometimes in December, and if it is possible, I shall be pleased if you can come and meet me at that time.
Please offer my blessings to the others. I hope this will meet you in good health.

A.C. Bhaktivedanta Swami