Radharani

Krishna

Caitanya

God

God's Holy Names

Krishna Consciousness Movement

Who Is Srila Prabhupada

his Timeline

Months in his Life

Training his Disciples

Questions

Bhagavad-gita

Devotees of God

Devotional Service to God

Discipleship

Guru / Acharya

Essential Subjects

Nectar Drops

What's in Vanipedia now

Glorious Personalities

Yoga

Collaborate with us to invoke and fully manifest Srila Prabhupada's Vani-presence.
---
691008 - Letter to Dr Shyamsundar written from Tittenhurst, UK
From Vanisource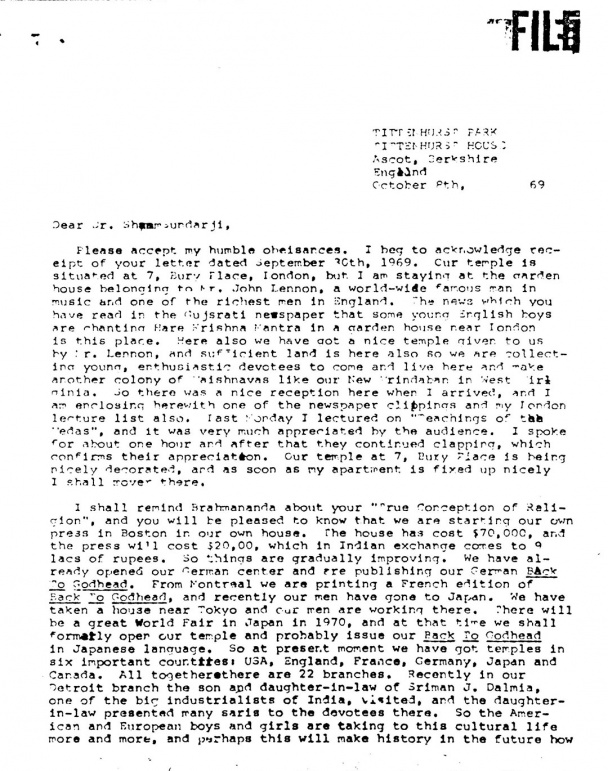 TITTENHURST PARK
TITTENHURST HOUSE
Ascot Berkshire,
ENGLAND
October 8th, 1969

Dear Dr. Shyamsundarji,
Please accept my humble obeisances. I beg to acknowledge receipt of your letter dated September 30th, 1969. Our temple is situated at 7, Bury Place, London, but I am staying at the garden house belonging to Mr. John Lennon, a world-wide famous man in music and one of the richest men in England. The news which you have read in the Gujarati newspaper that some young English boys are chanting Hare Krishna Mantra in a garden house near London is this place. Here also we have got a nice temple given to us by Mr. Lennon, and sufficient land is here also so we are collecting young, enthusiastic devotees to come and live here and make another colony of Vaishnavas like our New Vrindaban in West Virginia. So there was a nice reception here when I arrived, and I am enclosing herewith one of the newspaper clippings and my London lecture list also. Last Monday I lectured on "Teachings of the Vedas", and it was very much appreciated by the audience. I spoke for about one hour and after that they continued clapping, which confirms their appreciation. Our temple at 7, Bury Place is being nicely decorated, and as soon as my apartment is fixed up nicely I shall move there.
I shall remind Brahmananda about your "True Conception of Religion", and you will be pleased to know that we are starting our own press in Boston in our own house. The house has cost $70,000, and the press will cost $20,00, which in Indian exchange comes to 9 lacs of rupees. So things are gradually improving. We have already opened our German center and are publishing our German Back To Godhead. From Montreal we are printing a French edition of Back To Godhead, and recently our men have gone to Japan. We have taken a house near Tokyo and our men are working there. There will be a great World Fair in Japan in 1970, and at that time we shall formally open our temple and probably issue our Back To Godhead in Japanese language. So at present moment we have got temples in six important countries: USA, England, France, Germany, Japan and Canada. All together there are 22 branches. Recently in our Detroit branch the son and daughter-in-law of Sriman J. Dalmia, one of the big industrialists of India, visited, and the daughter-in-law presented many saris to the devotees there. So the American and European boys and girls are taking to this cultural life more and more, and perhaps this will make history in the future how
[PAGE MISSING]