690905 - Letter to Hansadutta written from Hamburg
From Vanisource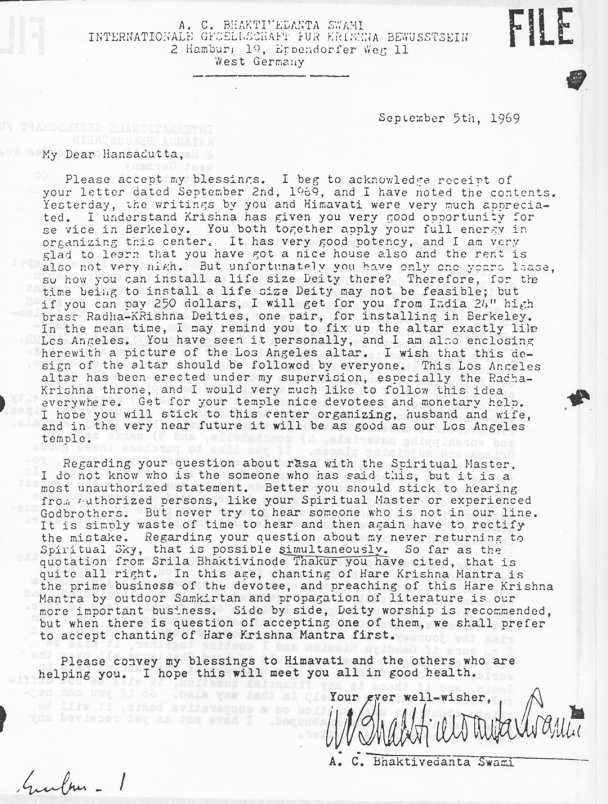 A.C. BHAKTIVEDANTA SWAMI
INTERNATIONALE GESELLSCHAFT FUR KRISHNA BEWUSSTSEIN
2 Hamburg 19, Eppendorfer Weg 11
West Germany
September 5th, 1969

My Dear Hansadutta,
Please accept my blessings. I beg to acknowledge receipt of your letter dated September 2nd, 1969, and I have noted the contents. Yesterday, the writings by you and Himavati were very much appreciated. I understand Krishna has given you very good opportunity for service in Berkeley. You both together apply your full energy in organizing this center. It has very good potency, and I am very glad to learn that you have got a nice house also and the rent is also not very high. But unfortunately you have only one year's lease, so how you can install a lifesize Deity there? Therefore, for the time being to install a lifesize Deity may not be feasible; but if you can pay 250 dollars, I will get for you from India 24" high brass Radha-Krishna Deities, one pair, for installing in Berkeley. In the mean time, I may remind you to fix up the altar exactly like Los Angeles. You have seen it personally, and I am also enclosing herewith a picture of the Los Angeles altar. I wish that this design of the altar should be followed by everyone. This Los Angeles altar has been erected under my supervision, especially the Radha-Krishna throne, and I would very much like to follow this idea everywhere. Get for your temple nice devotees and monetary help. I hope you will stick to this center organizing, husband and wife, and in the very near future it will be as good as our Los Angeles temple.
Regarding your question about rasa with the Spiritual Master, I do not know who is the someone who has said this, but it is a most unauthorized statement. Better you should stick to hearing from authorized persons, like your Spiritual Master or experienced Godbrothers. But never try to hear someone who is not in our line. It is simply a waste of time to hear and then again have to rectify the mistake. Regarding your question about my never returning to Spiritual Sky, that is possible simultaneously. So far as the quotation from Srila Bhaktivinode Thakur you have cited, that is quite all right. In this age, chanting of Hare Krishna Mantra is the prime business of the devotee, and preaching of this Hare Krishna Mantra by outdoor Sankirtan and propagation of literature is our more important business. Side by side, Deity worship is recommended, but when there is a question of accepting one of them, we shall prefer to accept chanting of Hare Krishna Mantra first.
Please convey my blessings to Himavati and the others who are helping you. I hope this will meet you all in good health.