690821 - Letter to Krishna dasa written from Los Angeles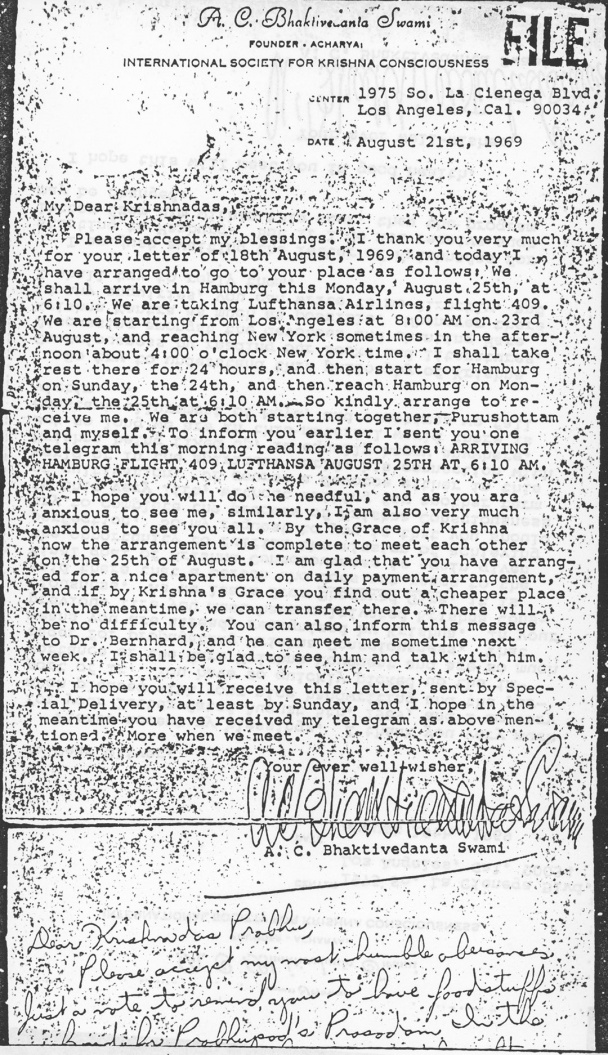 A.C. Bhaktivedanta Swami
Founder-Acharya:
INTERNATIONAL SOCIETY FOR KRISHNA CONSCOIUSNESS
CENTER  1975 So. La Cienega Blvd.
              Los Angeles, Cal.   90034
DATE      August 21st,     1969

My Dear Krishnadas,
Please accept my blessings. I thank you very much for your letter of 18th August, 1969, and today I have arranged to go to your place as follows: We shall arrive in Hamburg this Monday, August 25th, at 6:10. We are taking Lufthansa Airlines, flight 409. We are starting from Los Angeles at 8:00 AM on 23rd August, and reaching New York sometimes in the afternoon about 4:00 o'clock New York Time. I shall take rest there for 24 hours, and then start for Hamburg on Sunday, the 24th, and then reach Hamburg on Monday, the 25th at 6:10 AM. So kindly arrange to receive me. We are both starting together, Purushottam and myself. To inform you earlier I sent you one telegram this morning reading as follows: ARRIVING HAMBURG FLIGHT 409 LUFTHANSA AUGUST 25TH AT 6:10 AM.
I hope you will do the needful, and as you are anxious to see me, similarly, I am also very much anxious to see you all. By the Grace of Krishna now the arrangement is complete to meet each other on the 25th of August. I am glad that you have arranged for a nice apartment on daily payment arrangement, and if by Krishna's Grace you find out a cheaper place in the meantime, we can transfer there. There will be no difficulty. You can also inform this message to Dr. Bernhard, and he can meet me sometime next week. I shall be glad to see him and talk with him.
I hope you will receive this letter, sent by Special Delivery, at least by Sunday, and I hope in the meantime you have received my telegram as above mentioned. More when we meet.