690816 - Letter to Hayagriva written from Los Angeles
From Vanisource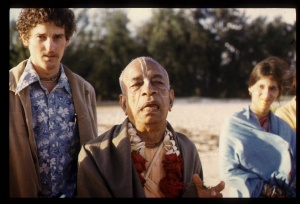 August 16, 1969

1975 So. La Cienega Blvd.
Los Angeles, Cal. 90034

My Dear Hayagriva,
Please accept my blessings. I beg to acknowledge receipt of your letter dated August 12th, 1969, and I have noted the contents. Enclosed please find the Conversation With Allen Ginsberg Part 2 and An Ancient Science for Modern America, along with the corrected Sanskrit verses duly typed. Regarding Macmillan publishing Srimad Bhagavatam if this is so, then the introductory portion about Lord Chaitanya must be included also. I am enclosing herewith* a copy of my letter to Pradyumna. The machine will be ready by the 22nd of August and you must immediately arrange for composing the books. So far as BTG is concerned, I think it is being done in New York by Jayadvaita, so let him do that as usual. You immediately take care that both Arundhuti and Shama Dasi compose the books. That is my desire.
I did not go to New York this past week because in Germany they have not as yet obtained an apartment. So I am awaiting Krishna Das' letter to inform me when they are ready. As soon as I receive this, I will go to the East Coast on my way; to Germany.
Please offer my blessings to the others. I hope this will meet you all in good health.
Your ever well-wisher,
A.C. Bhaktivedanta Swami
P.S. I have received Kirtanananda's sandesh. It is very very very nice.
Thanks. * sent next time